Not only large supermarkets, but also grocery stores and convenience stores continuously add items to serve the people.
The 4th outbreak of Covid-19 in Vietnam is considered to be more complicated than previous outbreaks because of infectious properties of the delta variant. At this time, social distancing measures play a crucial role in restraining the epidemic outbreak, in the context that vaccination implementation needs more time.
After receiving the lockdown order in many provinces and cities, the people's demand for food shopping increased. As noted by VnExpress, in Ho Chi Minh City, people have to wait in long lines to enter supermarkets to buy food after the social distancing order.At Mega Market on Hanoi Highway (Thu Duc City), from the early afternoon before the lockdown period, many people queued for about 50 meters in front of the entrance. Inside the supermarket with an area of ​​​​about 10,000 m2, only a maximum of 250 people were served. At the Coopmart supermarket at Thu Duc intersection, the number of people rushing to shop increased dramatically. Supermarket employees are mobilized to the maximum, constantly pushing large packages to refill.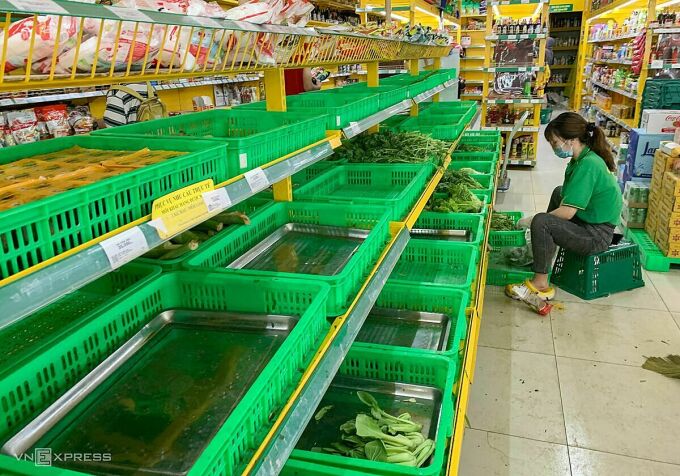 An employee of Bach Hoa Xanh in Thu Duc City sitting by a nearly empty vegetable counter on July 14. Photo by: Quynh Tran.
Not only large supermarkets but also grocery stores and convenience stores in many provinces and cities with distance directives recorded a rapid rise in shopping demand. On July 8 night, a series of supermarkets, convenience stores in Bien Hoa City were packed with people after the news of Dong Nai social distancing according to Directive 16 since midnight July 9. Bach Hoa Xanh has run out of essential items such as meat, fish, green vegetables, eggs…
To ensure the safety and prevention of epidemics for shoppers, the store stipulates that each customer only has about 10 minutes to choose and buy necessary items. According to the representatives of the supermarkets, small stores are widely distributed in localities such as Bach Hoa Xanh to help reduce the load and limit crowded shoppers at large supermarkets. In addition, people can buy food near their houses, limiting long-distance travel.
Previously, Ms. Le Thu Giang (District 9, Ho Chi Minh City) had the habit of going to a big supermarket to buy essential food items within a week for the family daily life. However, since Bach Hoa Xanh near her house starts to sell all kinds of food, Ms. Giang still can buy fresh and delicious food to prepare meals for her family. "I don't stockpile many things because there is a grocery store near my house with a wide range of products. As an early comer, I can buy all the necessary things," said Ms. Giang. However, after the lockdown order, grocery stores are also in a state of quickly "sold out" with so many purchasers.
In order to reduce the pressure on supermarkets and convenience stores, Ho Chi Minh City Department of Industry and Trade said that since July 16, the city will use essential business points to bring vegetable products and frozen goods to customers. Especially, 150 stores belong to Con Cung, mother and baby product chain, and 65 points of Guardian, health and beauty care product chain and Vinshop system, an application exclusively for grocery store owners to participate in this plan.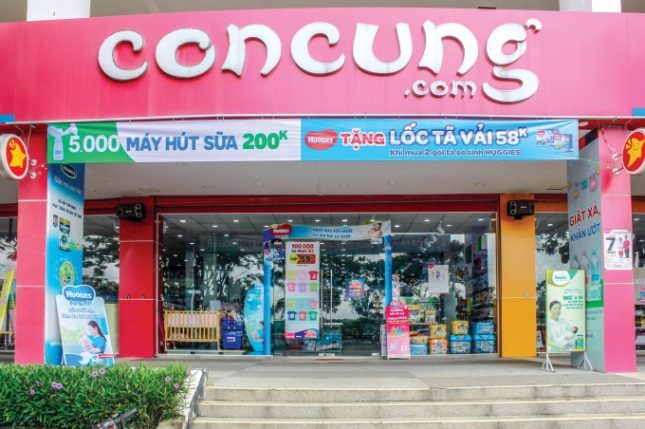 Con Cung will also sell vegetables and frozen goods at stores operating in Ho Chi Minh City. Photo by: Travelmag
According to Mr. Nguyen Thien Ngon, Director of A Dong Furniture and Advertising Co., Ltd – one of the largest display shelf suppliers in Vietnam, the number of crowded purchasers at grocery store chains is too much that these chains are rushing to construct and open more new points to serve the customers.
"A Dong's shelf factory must maximize its capacity to make a large number of shelves in a short time. It shows that there will be many new supermarkets in the near future, maybe overcrowding will no longer happen," Mr. Ngon shared.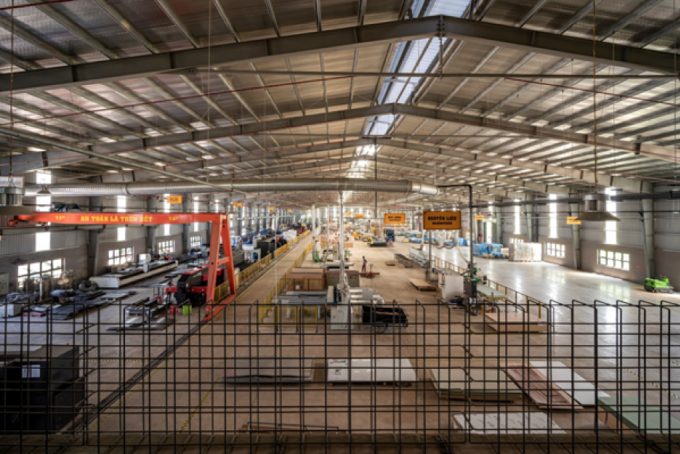 A Dong shelf factory must operate 3 consecutive shifts to meet the order quantity. Photo by: A Dong Co., Ltd
According to the representative of A Dong, grocery store chains have changed people's shopping habits and have an irreplaceable foothold in the consumer market even after the pandemic ends.
Nguồn: https://vnexpress.net/cac-sieu-thi-nho-day-manh-cung-ung-thuc-pham-thoi-gian-cach-4326799.html