Are you planning to sell fruits and vegetables or open a supermarket and need to invest in beautiful fruit and vegetable shelves to bring the best experience space to your customers? With many years of experience in the furniture industry, especially in the design and construction of Bach Hoa Xanh stores, KingFood… A Dong confidently brings you display shelf models, design and construction services for stores and supermarkets. Quality package, affordable price.
In order for the fruit to be neatly displayed according to the correct type, avoiding confusion or bruising, to attract more customers, it is necessary to have appropriately designed shelves. Currently, does A Dong have any shelf models that can solve this problem? The article below will be the answer for you.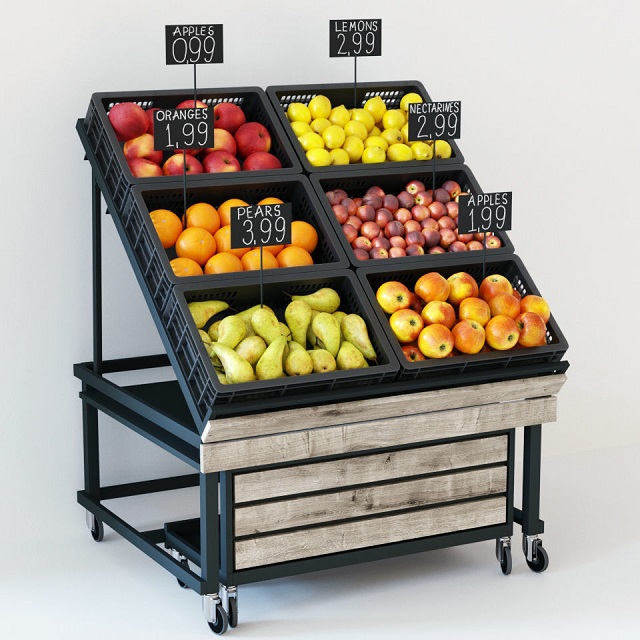 Supermarket shelves display fruits, vegetables, and fruits
The reason consumers use supermarket shelves to display fruit is because these shelves have high barriers to prevent fruit from falling out. Furthermore, the design is also adjusted to suit each space size, so you can feel secure.
Another advantage is that fruit display shelves in supermarkets must be calculated to have high strength, can bear up to about 100kg/layer tray, long life, durable over time.
You should choose an iron or steel shelf for display, which is both beautiful and durable. Fruit baskets can be made of plastic, metal or wood, which will not affect the weather changes. Besides, it depends on the space to choose and design a reasonable area while still ensuring the aesthetics of your store or supermarket.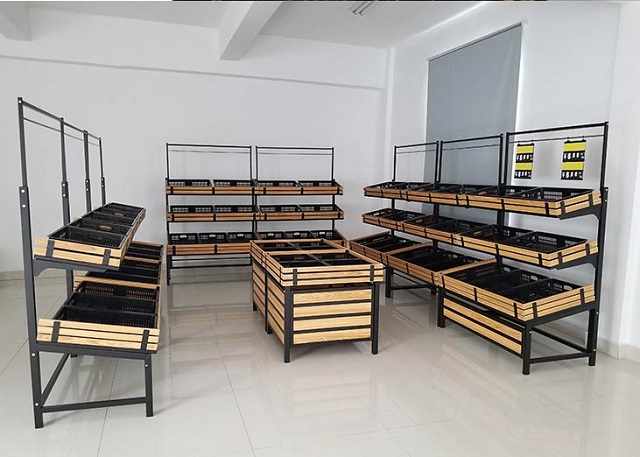 Fruit shelf with plastic basket
The latest fruit display shelf model has been well received by many customers. Taking quality as number 1, display shelves are manufactured by A Dong on modern machinery lines, from the smallest part to the most important part of the shelf, all go through a meticulous and strict production process.
With the addition of wheels, the fruit display shelf can be easily moved to arrange goods without wasting much time. The shelf's base is made of monolithic steel with a thickness of 0.8 mm so it has high strength. , in addition, A Dong also designed a very slender pedestal frame to increase aesthetics and the shelf is too heavy when moving.
The fruit shelf is an extremely sturdy frame, on top of which is a basket made from materials according to the customer's request. The tray is separate to help customers easily display and clean the fruit. To save display space, the shelf will often be designed into 2 floors, 1 main floor above where customers can display the main fruits for sale, the lower floor can be used to store flowers. fruit.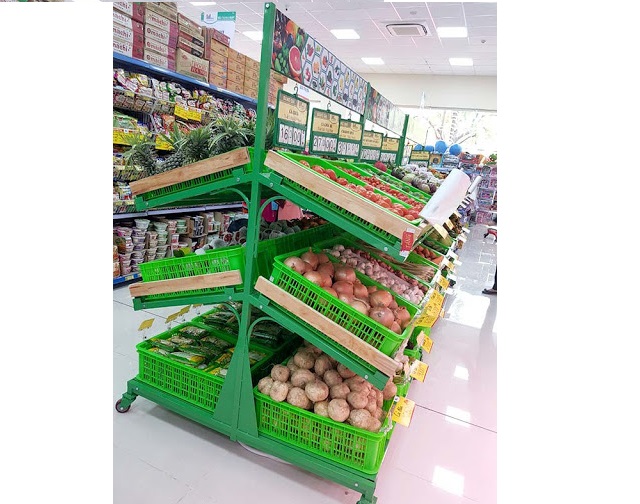 Beautiful fruit and vegetable shelf
Beautiful fruit shelves can be promotional shelves displayed in the middle of the supermarket. This is very convenient and takes advantage of customers' attention while fruits and vegetables are displayed very easily. Supermarket owners just need to display the fruits on the floor, customers will stand around to choose goods.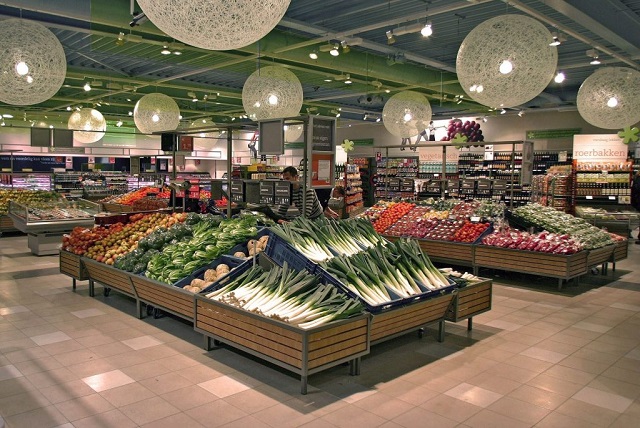 Fruit display shelf combined with cooler
This type of shelf is indispensable in most supermarkets and stores to ensure that fruits are always fresh. Inside the refrigerator, the compartments are designed very scientifically and neatly to maximize the arrangement of fruits and vegetables. In particular, this type of shelf also has cool mist or steam release modes to keep these items as fresh as possible.
The plus point for this shelf model is that the cabinet frame is very sturdy, sturdy and has extremely good bearing capacity. Furthermore, the design is also more beautiful and luxurious than conventional shelves; Increases the aesthetics of your stores and supermarkets. In particular, the cooling cabinet has lights installed so it will attract more customers.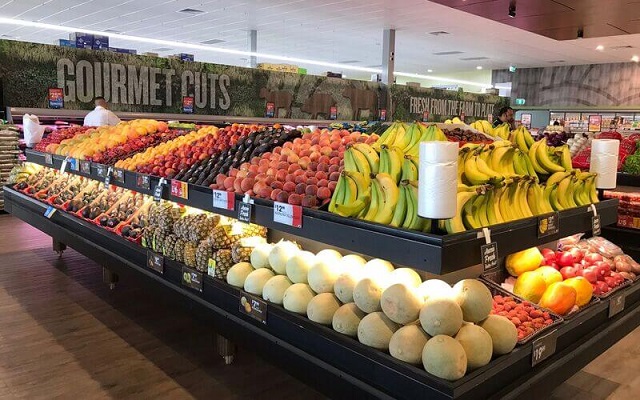 A Dong provides fruit shelf models
With the advantage of many years of experience in the furniture industry, along with long-term cooperation in the design and construction of King Food supermarkets, Bach Hoa Xanh, Mobile World,… we are confident to bring to customers of the highest quality products.
In addition to experience, A Dong owns the A Dong factory with an area of more than 20,000 m2 with a modern, closed machinery line with a quality inspection process from raw materials to product production.
Contact A Dong at the following address for advice:
Address: 112/9 Pho Quang Street, Ward 9, Phu Nhuan District, Ho Chi Minh City – VN
Email: lethu.posm@adong.com.vn
Hotline: 091.999.7403