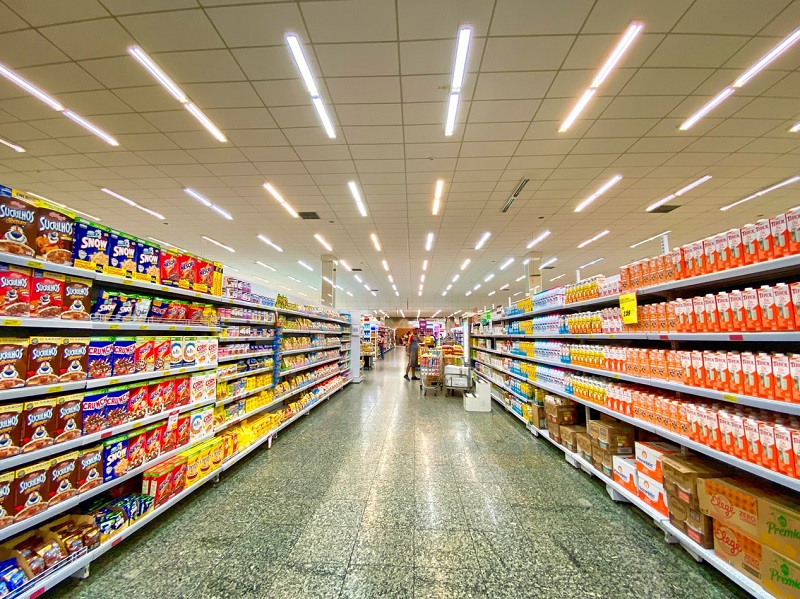 Supermarket shelves of 2020

Iron V hole wooden Chuck for supermarket
As the Iron shelf V hole wooden Chuck is a kind of shelf that has the function of carrying, displaying normal goods like iron shelves. Depending on the needs and purpose of use, customers choose the right type of shelves. Due to the fact that it is used on an iron frame that can withstand large loads, this type of shelves has advantages over the usual supermarket iron shelves. In addition, with the availability of products, they are also used in many stores such as fashion shops, souvenirs, IGN has chosen wooden frame iron shelves to display products to make the store space more unique and impressive.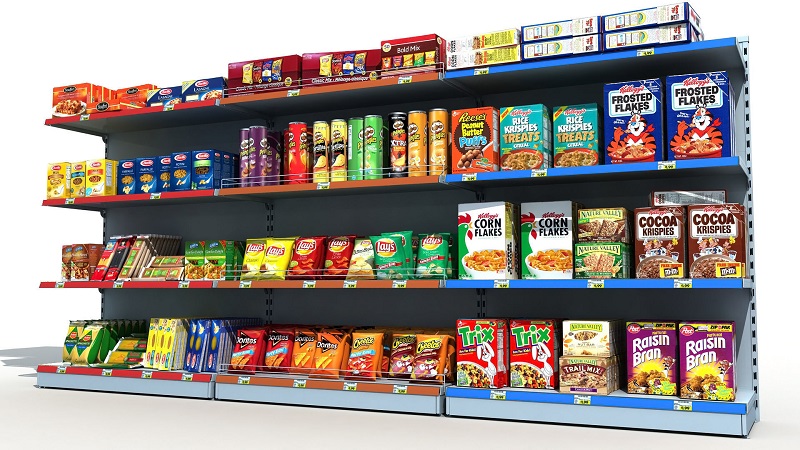 The variety of variations is great, so users have a choice of suitable models. This product can be used to display items such as: pots, pictures, vases, cotton animals or books display,…
Iron and mesh supermarket shelves combine wood chucks
With the utilities that supermarket mesh shelves bring, compared with other designs on behalf of corrugated Chuck with wooden chuck, this product has a big difference appearance. With mesh shelves equipped with wooden trays they will have the advantage of being more rigid than corrugated trays in a more beautiful form.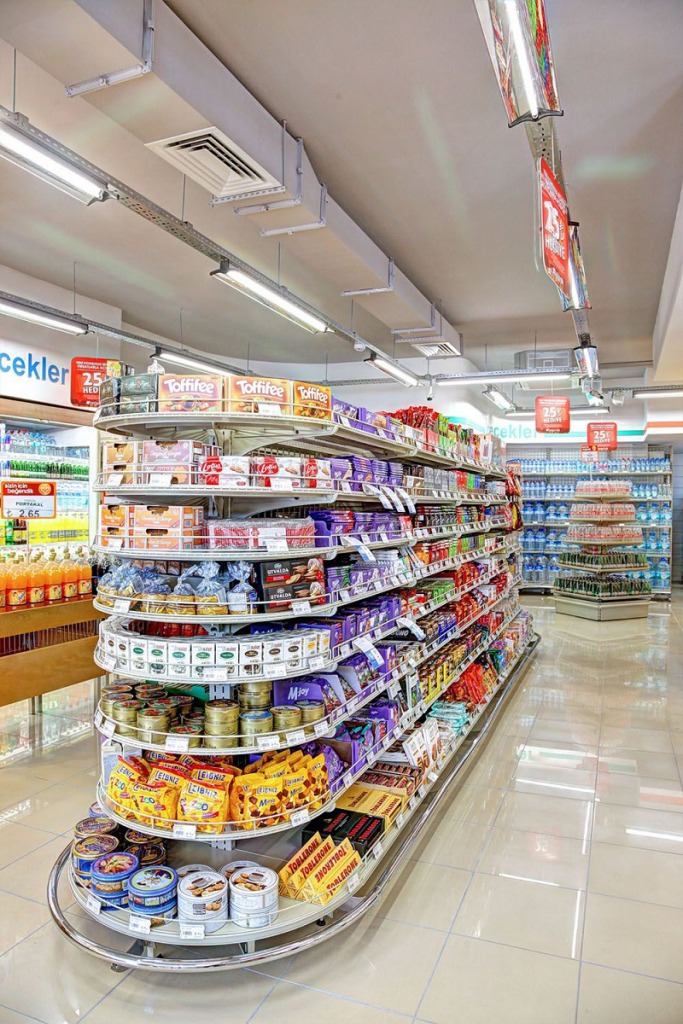 Wood material can be from industrial wood MDF, MFC or HDF and natural wood such as pine, oak, rubber,… ensure high strength and durability.
Advertising supermarket shelves
Advertising shelves are independent shelves, often stand alone and do not affect the shelving system in the supermarket. Advertising shelves are often more prominent than other conventional shelf models because of the different color, more eye-catching and cockroach banner advertising products at the top of the shelves in order to attract customers.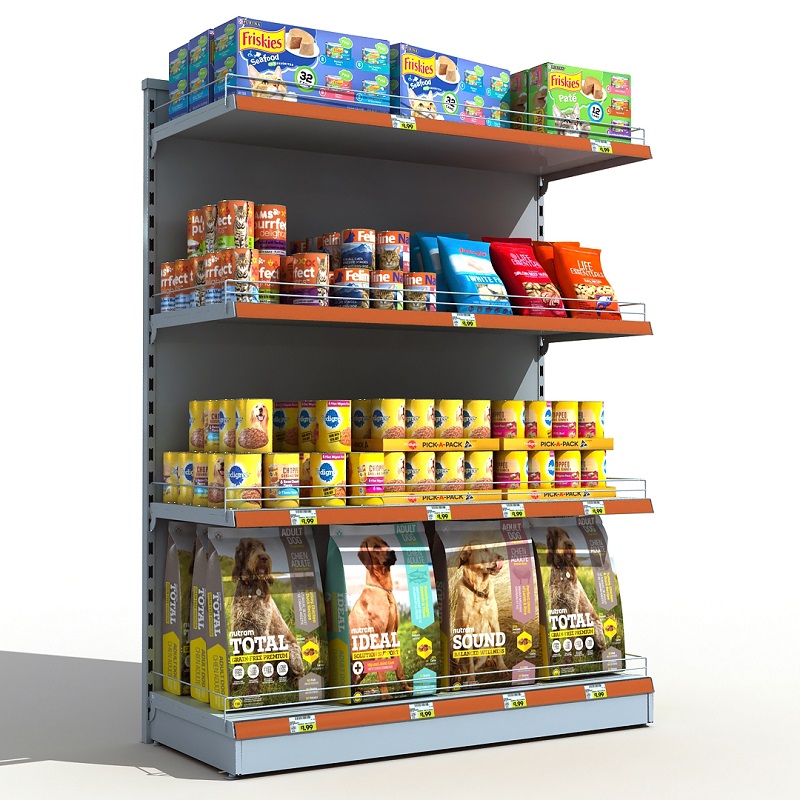 Usually advertising shelves are usually placed in expensive locations of supermarkets such as doors, payment points or at display spaces, where customers can easily see and access products. Advertising shelves are often used to introduce new products, introduce promotions or simply to promote the consumption of certain products.
Advertising shelves as well as other conventional supermarket shelves have parts such as hand Bowl, tray, pillar, brace,… Advertising shelves are designed with the size and number of floor trays depending on customer requirements, usually from 3 to 6 floors. Shelves with brand banners on top help to advertise the best brand to customers.
Supermarket shelves for vegetables and fruits
Fresh, clean vegetables are one of the most popular and used Foods today. Clean vegetable stores in general and clean food in general are increasingly well received by consumers. Using supermarket shelves to display goods not only help you display and store goods better, but also make your supermarket, store more beautiful, friendly in the eyes of customers.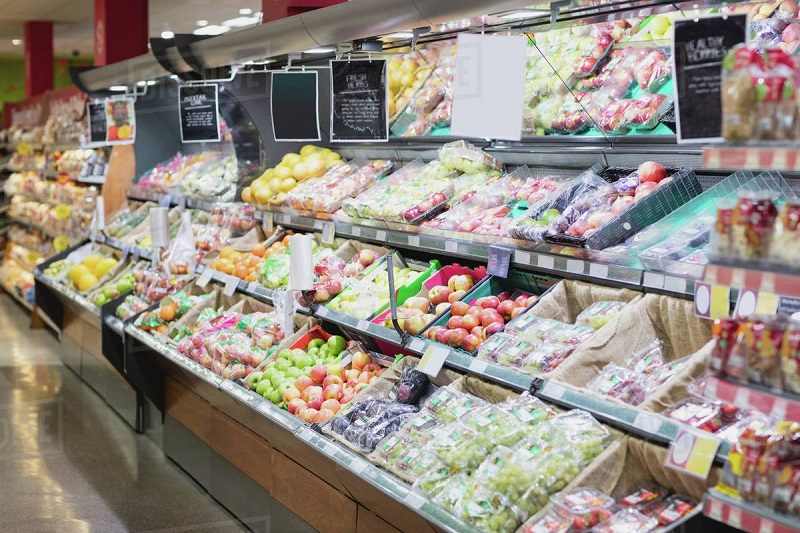 Important notes when buying supermarket shelves
When you solve the following problems, you will choose for yourself the products that best suit your premises and funds. Specifically as follows:
Display area
This is one of the most important factors that you need to consider. Let's measure how long, wide, high the warehouse is expected to be. The type of shelves supermarket liquidation container how much size, which specific shelf to use depends on the size of the warehouse.
Delivery time
Manufacturers now try to speed up production to meet the needs of customers. However, you also need a specific timeline to meet your production and business needs.
Information about goods
You need to give answers about the goods that you will store in warehouses and supermarkets. This also has the nature of deciding which shelves you will choose for your supermarket. With items of small or medium volume, you should choose the type of V-hole shelf. For items of medium volume, you should choose the top of the supermarket shelf. Heavy load shelves are suitable for large-volume goods. In addition, you also need to consider several factors:
What is the greatest load kg / pallet
What is the average load kg / pallet
Number of pallets / floors.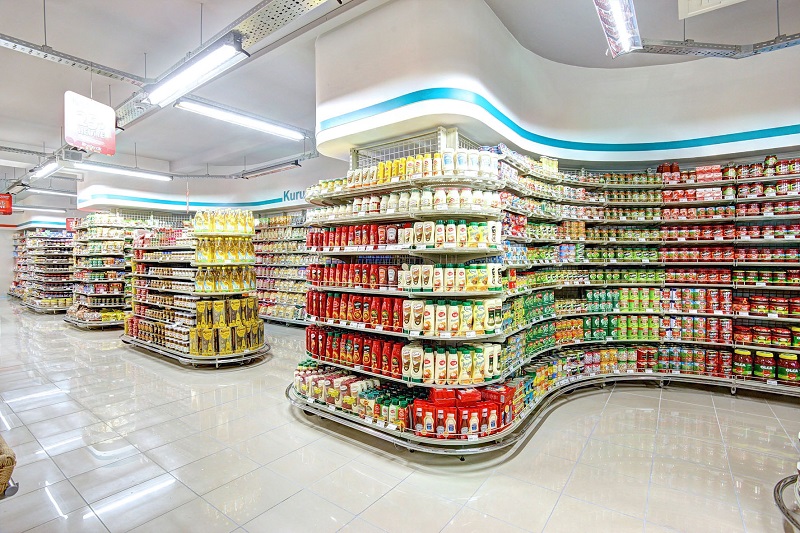 Learn about the information of supermarket shelves
This will help you choose the type of iron shelves for your supermarket perfectly. From the review and find out, you can estimate the details:
Is there a supermarket shelf drawing already?
How many shelves is enough?
Use double shelves or single shelves for supermarkets?
Estimated size to match supermarket cost and area
Whether to use Pallet racks and if so how many bars / floors
Use items made of wood or corrugated material?
How many straight and cross bracing bars are used between the main column supports.
Find out about supermarket shelf suppliers
No one can deny the importance of supermarket shelves in storing goods. Iron shelves for supermarkets are used for a very long time with an incredibly large volume of goods. Therefore, if you choose low-quality shelves, you will face the situation of collapsing shelves, degraded shelves, damaged goods. Therefore, you should learn about long-time reputable units in the market.
High aesthetics
Supermarket shelves also contribute to the face of your store, supermarket. Therefore, the owner of the store should also pay attention to the aesthetics when choosing shelves. The product is sleek, harmonious colors eye-catching, durable paint water will add accents to the sales space. You can also order the manufacturer to design supermarket shelves according to the function of use, colors suitable for the display of goods, products, bringing high aesthetics to your store or supermarket.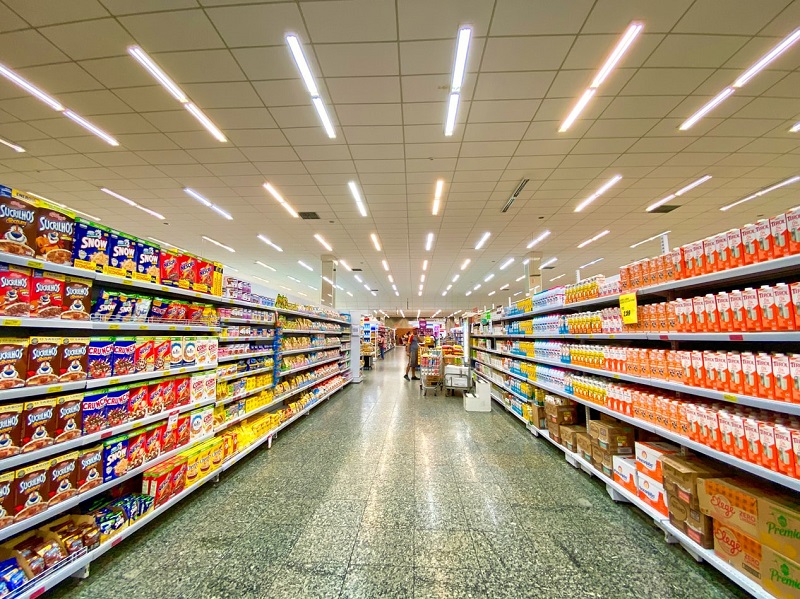 Professional supermarket shelving supply unit prestige
Currently on the market there are many units that offer supermarket shelves. But to find among them which units offer cheap supermarket shelves, but the quality must be guaranteed, very little. Because the market is now rampant Chinese supermarket shelves, cheap supermarket shelves. Each unit when looking to buy supermarket shelves must be sober.
A Dong is a leading manufacturer of supermarket shelves in Vietnam. With the production of large volumes of supermarket shelves, orders are shipped daily in huge numbers. With more than 20,000 m2 factory in Dong Nai we are confident to provide you with the right, sufficient quantity of quality supermarkets as committed.
Advantages of A Dong's supermarket shelves
A Dong's supermarket shelves have created trust for customers as the number of shelves out of warehouses tends to increase sharply. Our shelves are relatively diverse with a variety of different types. The cost of supermarket shelves also depends on the material and thickness of the shelves, with the following outstanding advantages:
Supermarket shelves are manufactured according to the current advanced technological process
Materials for creating products are carefully selected:
Iron and steel cylinders are tempered at high temperature for superior load bearing efficiency
The surface of the floor tray made of cold rolled iron with a thickness of 0.6 -0.8 mm is easily flexible but has good hardness. Support cargo display with weight 50-80kg
The entire shelf is powder coated according to automatic spraying technology. Powder coating with high adhesion, smooth screed effectively supports the protection of iron material inside from oxidation by the environment
Large load capacity
Diverse dimensions, clear stratification
Product life up to 10 years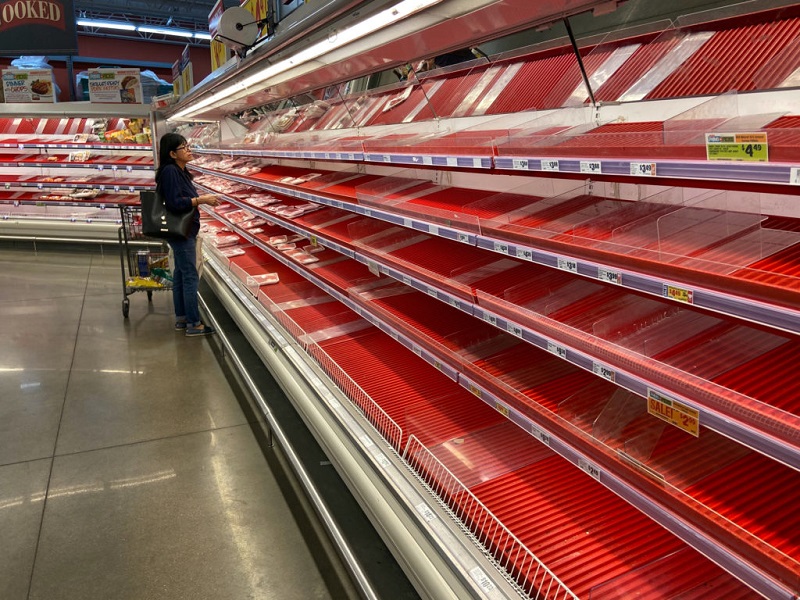 Why you should choose A Dong supermarket shelves
From the perspective of the A Dong manufacturer confident affirmation will bring users satisfaction for customers about:
Product quality always satisfies customers
The most competitive price on the market today
Support consulting and answering any questions about the types of products shelves
Provide thoughtful, dedicated customer service
Support shipping and free shipping inner city HCMC
Customers get the best discount when buying in bulk
Consulting, designing, arranging free premises survey to help customers save investment costs and expand the usable area.
Support installation to place.
A Dong is a leading unit specializing in the production of supermarket shelves, advertising shelves, store shelves, ICs with modern production lines imported from abroad, ICs with strict quality process.
For more information about supermarket shelves and quickest quotes, please contact A Dong via information:
Phone / Line / Zalo / Viber :0969.993.037
Email: lethu.posm@adong.com.vn
Website: https://adong.com.vn/
Main office in Vietnam: 112/9 Pho Quang Street, Ward 9, Phu Nhuan District, Ho Chi Minh City – Vietnam.
A Dong Factory: Land plot 130 – TBĐ, Industrial Cluster 8, Slope 47, Bien Hoa, Dong Nai.