Currently, glass is being favored by its beauty, brightness, shimmer and is a safe material that does not affect human health. Glass (glass) is the name given to a homogeneous amorphous solid. Made from the main material is silicate glass sand, when heated at high temperature, they become more liquid so that the manufacturer can easily shape as desired. Glass is widely used in construction, as containers (bottles, jars, cups, cups, glasses, cups, …) or decorative materials. Widely applied in all aspects of life, now glass also contributes to making products for display and sales, POSM for stores and showrooms. Let's learn more about this material and its application in the production of shelves, POSMs for shops and showrooms with A Dong!
Strength
Beautiful, luxurious when using

High temperature resistance and good shock resistance

Safe for users' health

Can be reused

High reliability and long life.

Easy to clean
Types of glass that A Dong used
Tempered Glass
Glass is heated up to 630 degrees, then cooled suddenly so that the glass has a higher hardness and heat resistance than ordinary glass products. Tempered glass is often used for architecture and interiors, places where safety and good bearing capacity are emphasized such as glass doors, hand basins, glass shower stalls, etc.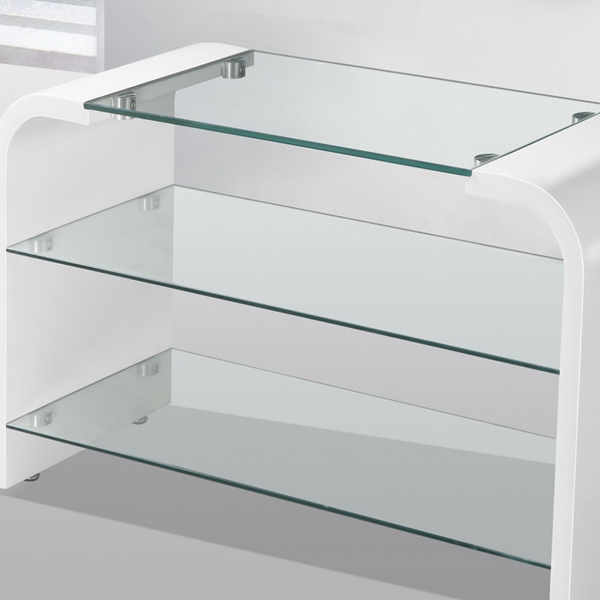 Glass products for display and sale
Each showroom, store with its own business items will have a different layout and display. However, no matter how it is displayed, the cabinets and counters made of glass and glass will all have the effect of increasing the beauty and elegance of the space, creating a professional and high-class appearance for the door. goods, businesses.
Clock display cabinet: the cabinet is made with shiny glass, making it easy for customers to observe while adding value and aesthetics to each product.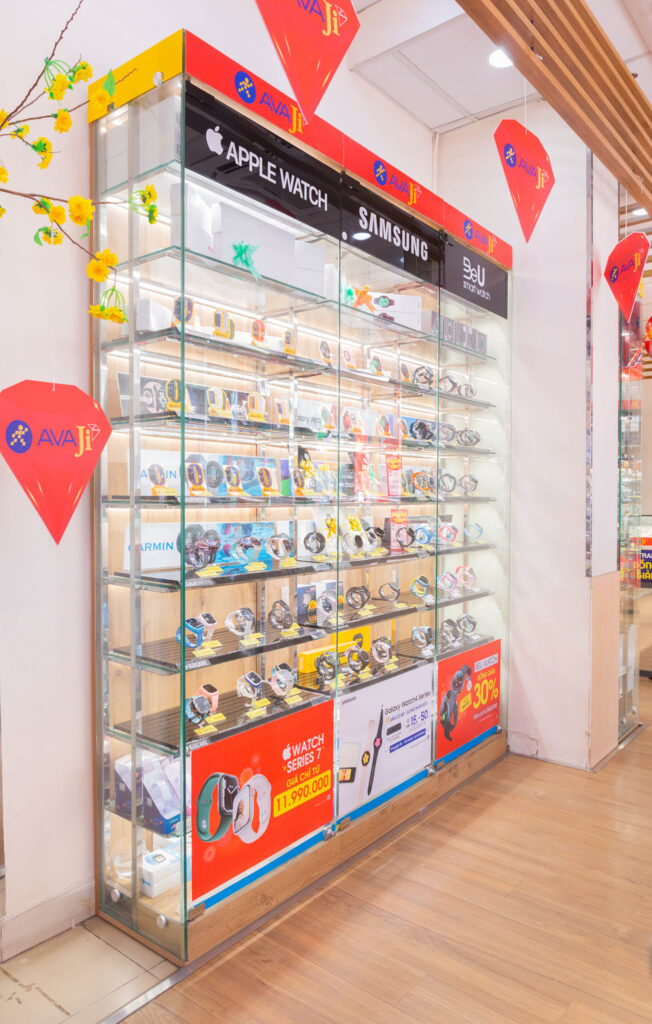 The watch display case is manufactured by Asia for the Ava Ji jewelry store chain.
Jewelry display cabinets: The jewelry samples are neatly and beautifully arranged in the glass cabinets, which will create a good impression on customers. Next to the glass cabinet, cleverly adding a lighting system will add more shimmer to each jewelry.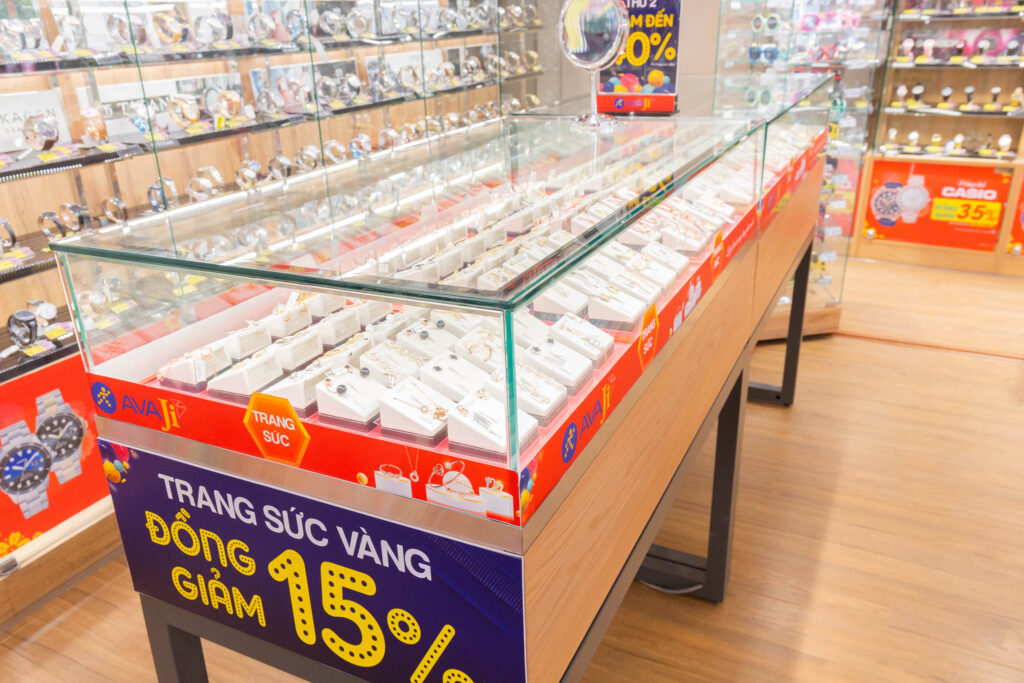 Jewelry display glass cabinets are manufactured by A Dong for the Ava Ji jewelry store chain.
Experience table: this is the type of table commonly found in mobile phone stores, etc. The glass surface helps to enhance the beauty, customers can experience the product, thereby stimulating their shopping needs more.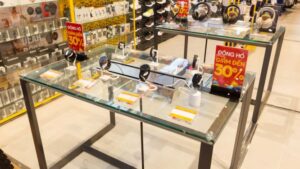 Experience table A Dong produced for the Avasport store chain.
A Dong is a company with more than 20 years of experience specializing in the field of advertising and furniture. As a leading unit providing design and construction solutions for chain stores and manufacturing products for display and sales such as signboards, counters, POSMs, etc. Professional working process at home With modern production machines, A Dong confidently commits to providing customers with package projects on schedule, with quality and optimal cost.