Quality is not just about providing a product, but also investing a lot in promoting your product to a wider audience, with more people. The measure that many business owners choose is to use product display shelves.
What is a product display shelf?
A product display shelf, also known as a merchandise display shelf or a retail shelf, is a type of cabinet, counter, or shelf with diverse sizes, colors, and designs that are suitable for the interior space and the products inside the store. Displaying products on shelves helps guide the flow of traffic within the store, keeps the products organized and tidy, directly impacts the impression and attraction of customers, and helps enhance brand awareness.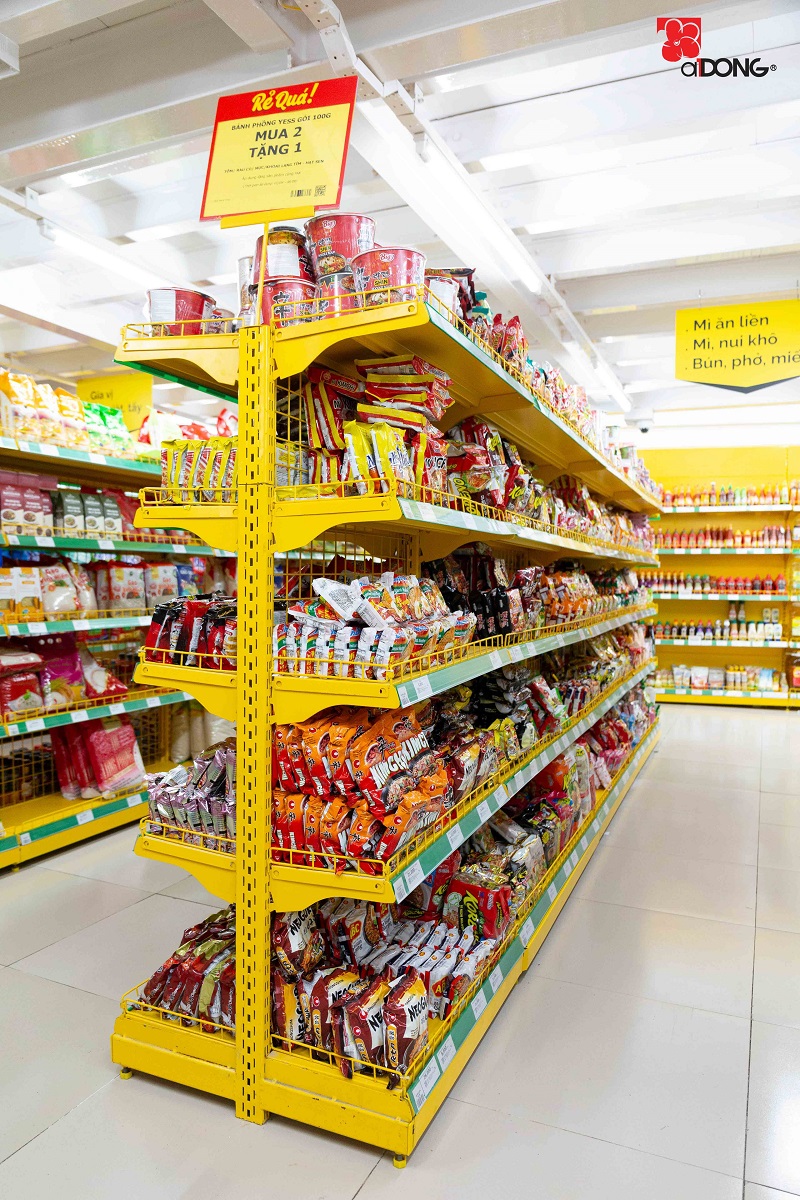 Product display shelves for supermarkets
Benefits of display shelves
Increase the perception of product quality and credibility.
Demonstrate the commitment of the business to customers.
Showcase aesthetics, enhance flexibility, openness, and spaciousness for the retail space.
Easy management, arrangement, import, export, and storage of goods.
Maximize space savings, making it easier and more convenient for customers to shop.
Cost savings.
Which type of product display shelf should be chosen?
No matter what field you are in business, you always need the element of product display to stimulate customer demand. Therefore, investors pay great attention to using shelves that meet the standards of compact design, modern style, flexible structure, quality, and still ensure aesthetics.
Wooden shelves: These are models made from wood materials such as natural wood, MFC industrial wood, MDF, and solid wood. The characteristic of wood is that it is prone to moisture and mold, so it needs to be kept dry or placed in a well-ventilated area. Therefore, these shelf models are usually combined with simple yet extremely sophisticated designs.
Iron shelves: Iron shelves do not have many designs but have high durability and can withstand heavier loads.
Single wall display shelves: The main material is steel, one side is used to hold products and the other side is used to hang on the wall. This design allows placing the display shelves close to the wall, helping to save a lot of space in a small and narrow store.
Display mesh shelf: Mesh patterned shelves are small iron bars connected together in square shapes to display and keep products cool, such as cakes and candies.
Double-sided shelf: Two sides, with a solid metal back in the middle, used for displaying products. This design helps optimize the store's space, and the amount of products displayed will also be superior.
Display shelves with continuous back: The back of the shelf is made of solid metal sheets, this design helps to cover up any flaws such as poor, ugly and porous walls, completely ensuring stability and safety when displaying products.
Glass cabinet display shelves: This shelf is designed to display gold, silver, jewelry, ceramics, etc. The structure is made of glass, so it is easy to clean and less prone to scratches and breakage.
Display shelves are customized according to their intended use: Depending on the type of product, the material, and the placement of the shelves, there will be different types of shelves to meet the corresponding purposes.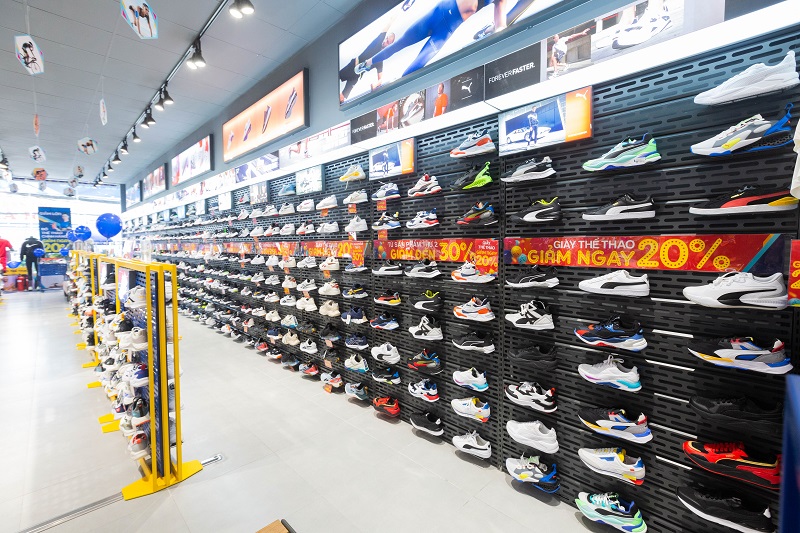 Wall-mounted display shelf
Note when choosing a display shelf for a grocery store
Store area: Think about planning the layout of the space for the store as well as selecting the products to display according to specific categories. Remember that the attention of customers is the focal point in the decoration plan. For small and narrow stores, choose long shelves with a suitable width. For spacious stores, you can divide the space and allocate shelves for corresponding groups of products. The visibility of the products should always be displayed at a sufficient height so that customers can touch them and feel comfortable choosing their items.
Product type for sale: Consider the displayed product, you will be able to choose a shelf price with a suitable load capacity for the set target or standard.
Appropriate design: The design needs to be suitable for the type of goods and the type of space for placing the shelves.
Consider the weight and volume of the product: In addition to the retail space, the weight/volume of the products you choose to display is a very important criterion to consider and should not be taken lightly when selecting a suitable shelf. Depending on the load that the shelf has to bear, the distribution of goods on the shelf is something that needs to be carefully considered. Choose shelves with the highest load-bearing capacity possible. The heaviest load should be stored at the bottom and the lightest load at the top. Most stores primarily use shelves with medium or light load-bearing capacities, but you should also consider the material and price.
Let's A Dong Company solve your problem with standard, safe, and quality solutions. Are you a business in need of a reputable unit for designing and decorating showrooms, stores, or shops? Contact A Dong immediately at hotline 0969.993.037 for more advice.