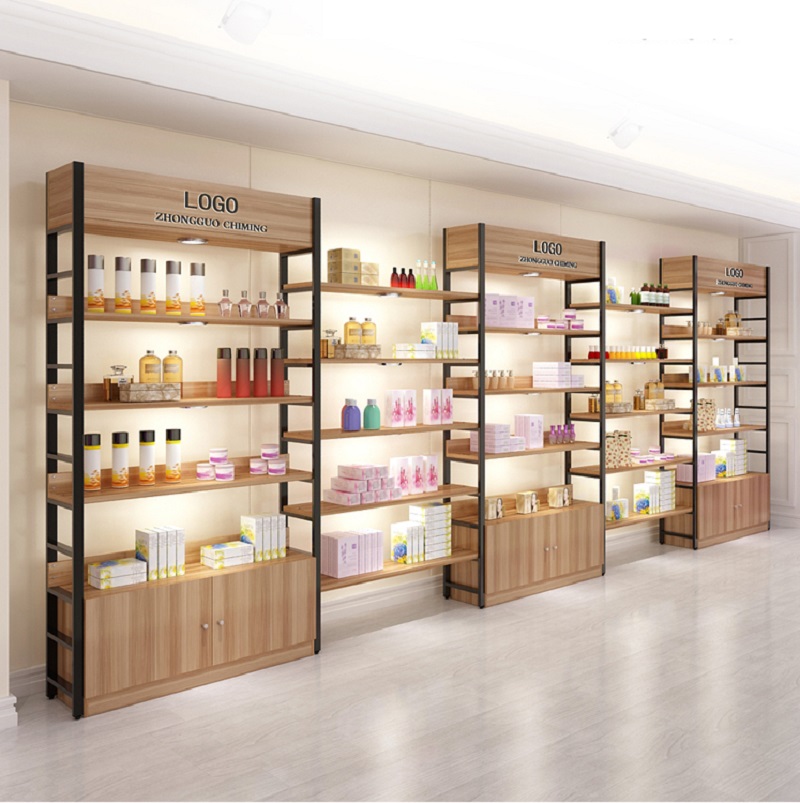 To design a separate display shelf or cosmetic display cabinet suitable for the store in terms of style, color and material is not easy because in addition to the purpose of customers to visit shopping products, the design of cosmetic showrooms also directly affect their way of thinking and contact.
Buy prestigious cosmetic display shelves in A Dong
Currently, there are many units and addresses selling cosmetic display shelves, glass cabinets for cosmetic display, but to choose a reputable supplier is not simple. A Dong is proud to be one of the leaders in the production and distribution of shelves nationwide.
Factory more than 20,000m2 production process, strict quality inspection:
With the production process according to the technological line, modern machinery, with professional engineers, rich experience from material selection to finished products, quality inspection, warehouse and factory:
Why should you choose A Dong?
As a unit operating in the field of advertising and interiors with more than 15 years of experience, facilities, equipment and full machinery, with 2nd factory more than 20,000 m2 located in Dong Nai will satisfy customers with the full quality and quantity requirements.
We have designed and installed shelving counters for many prestigious big partners such as: Mobile World supermarket system chain, Huawei, Sony, Thien Long, Long Chau pharmacy,….
We can deliver goods across the country, for large projects that need a lot of quantity, A Dong ensures, commitments on the progress of handover and installation. Fast delivery time, free design advice,…
Production according to customer's request, size, model.
Long time warranty commitment.

Types of cosmetic display shelves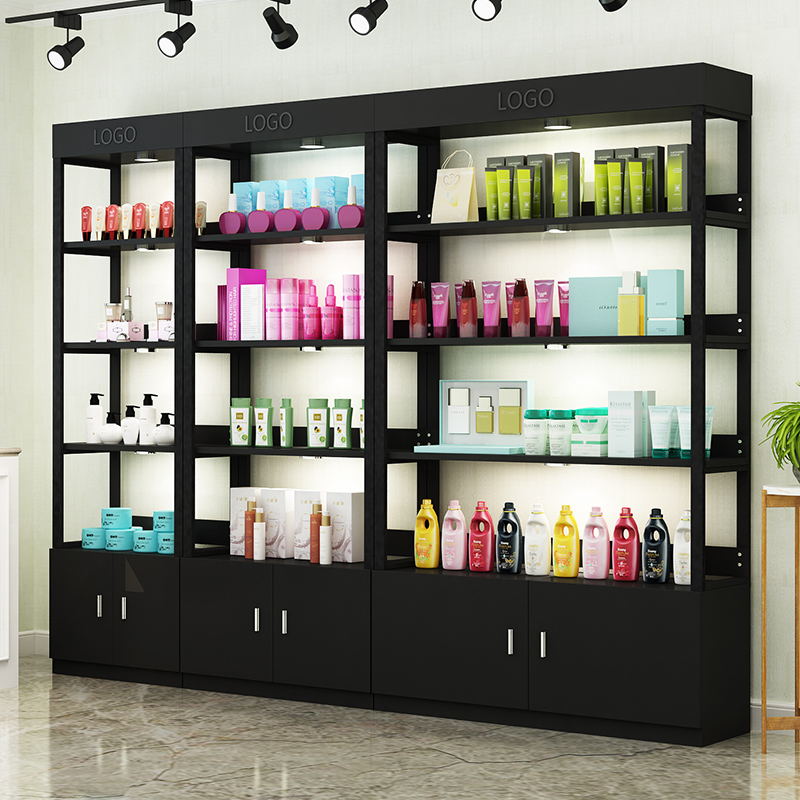 Depending on the design of the cosmetic showroom to choose the appropriate display cabinet style. However, most display shelves are often designed simply, multi-tiered, small compartments that display a variety of cosmetics, as well as arrange each brand separately.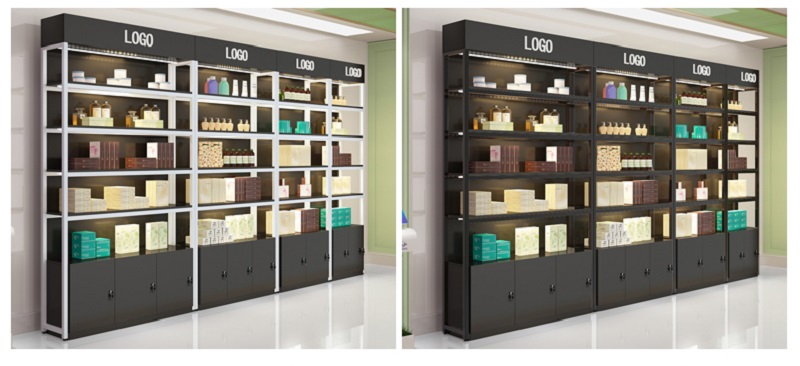 Most of these cabinets use functional industrial wood design, create friendliness, safety and quality, combined with transparent glass, not only create beauty for effective showroom, but also highlight each product, each type of cosmetics, attract, stimulate purchases when visiting the showroom.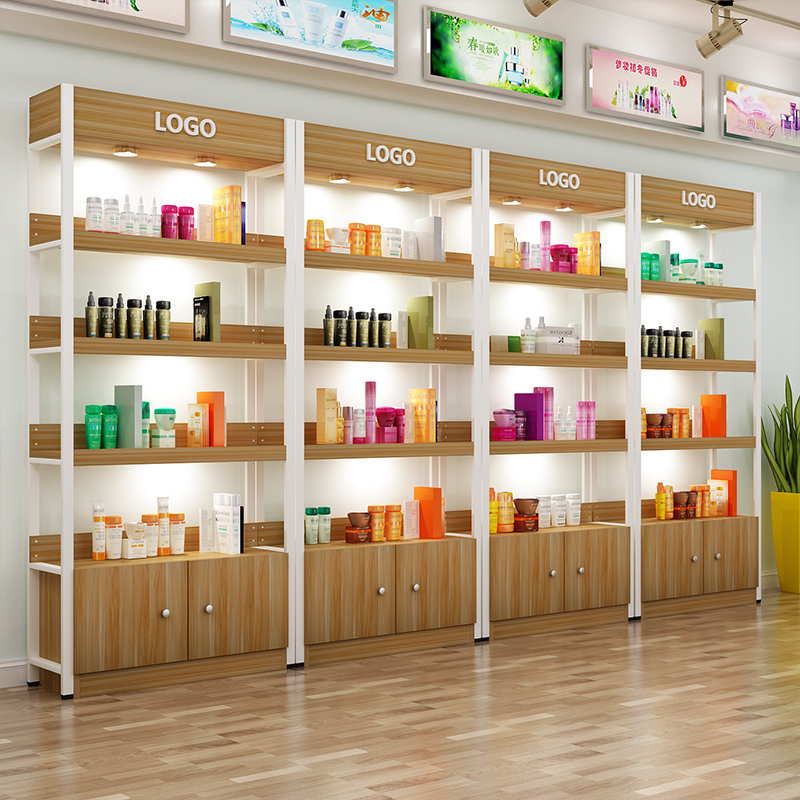 Light is also noticed by us with the aim of clarifying the image for cosmetic items, the harmonious combination of combined elements will complete the products, the space becomes the most sophisticated, customers will have an extremely convenient shopping experience.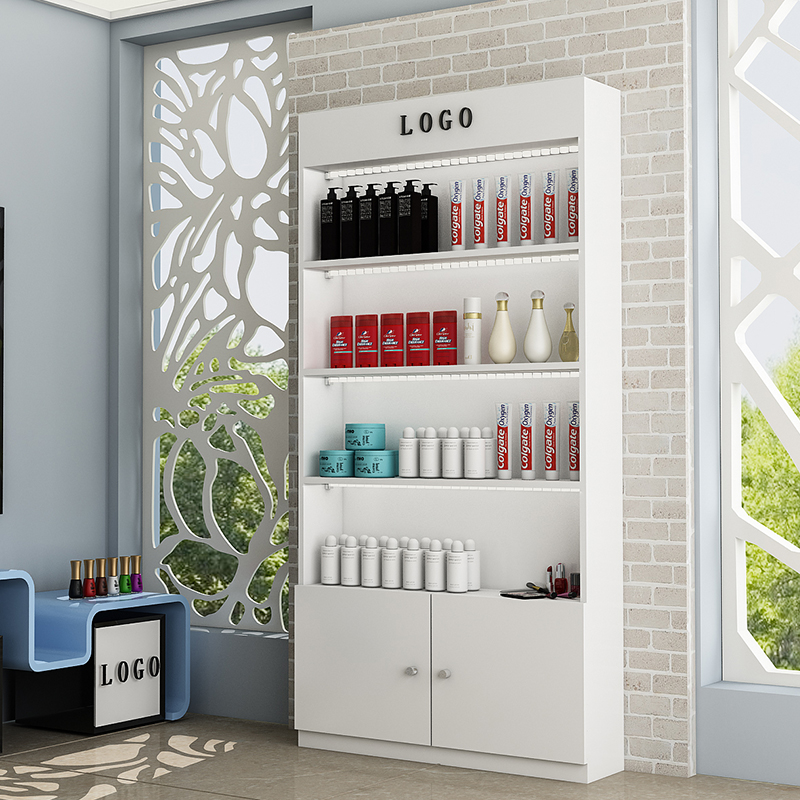 With the advantage of the manufacturer, the model size, the type of cabinets we have can meet all the requirements of customers about the standard cosmetic display cabinet shelves and many different sizes.
Cosmetic shelf models
Based on the real needs of display shelves products for cosmetics industry, A Dong provides customers with shelves to give customers more choices and comparisons.
Each model of cosmetic display shelves has different advantages and disadvantages, depending on the needs of Use, style of showroom and investment costs to be able to choose the model that suits you best: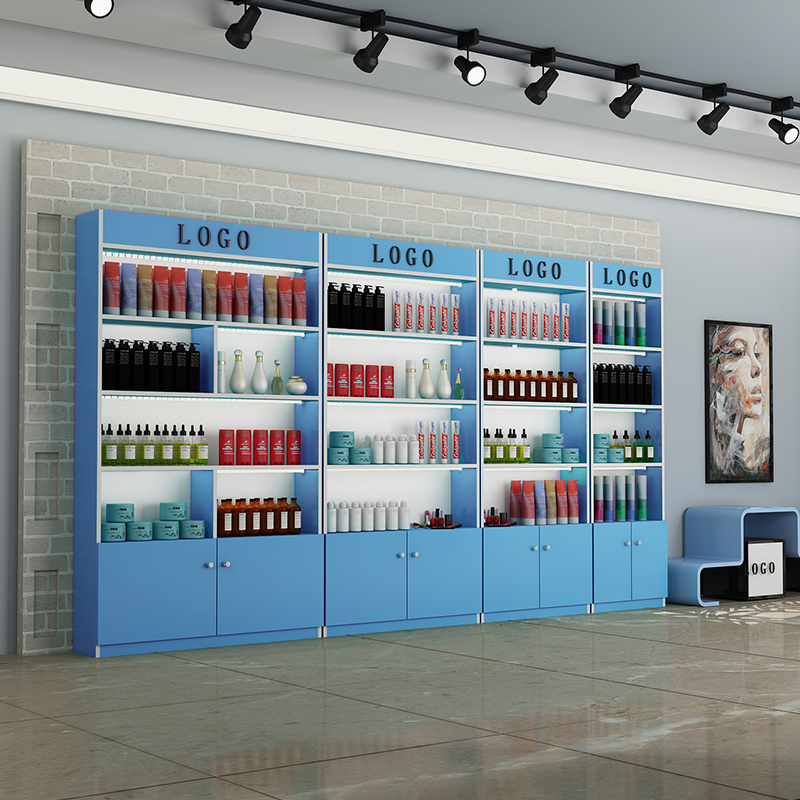 The trend of designing shop and showroom Cosmetics is making wind in the market for this item, because its beauty and features are quite delicate, attractive. Compared to these shelves, cosmetic shelves are always interested, decorated in a very impressive detail to the smallest details, because the size of cosmetic items is too small, so it should be noted this display in crowded places create a feeling and create friendly, convenient features to give your customers a great experience.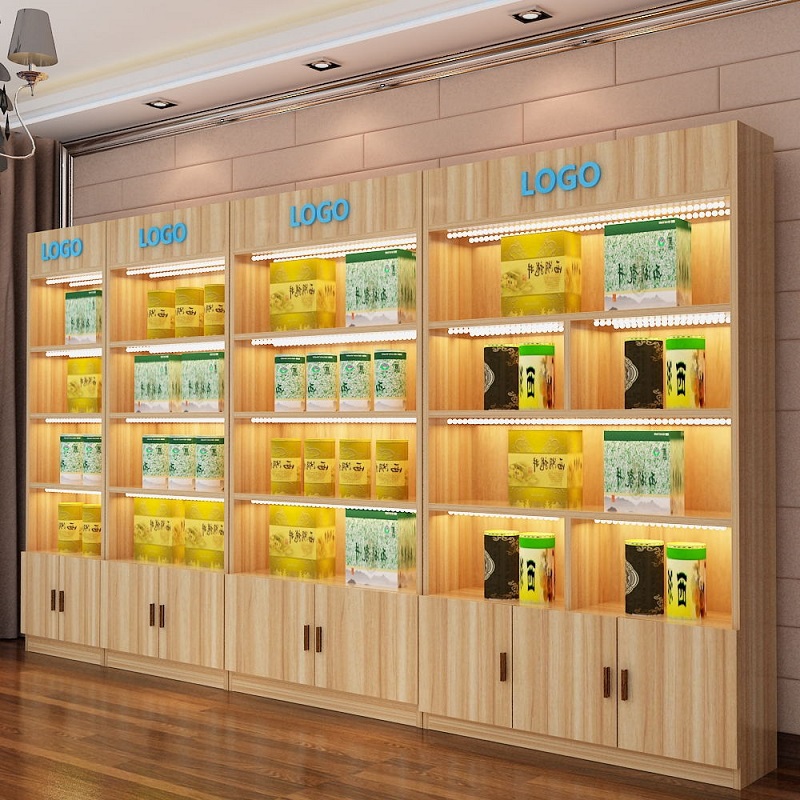 Use for the design and subdivision includes placing the same or related product groups in an understandable way and in the direction of moving in the store with logic, helping customers easily determine where the product they want in the store or showroom or shopping center. Shelves help showcase orderly and effective cosmetic goods, this way your customers will find the products they want in the shortest time.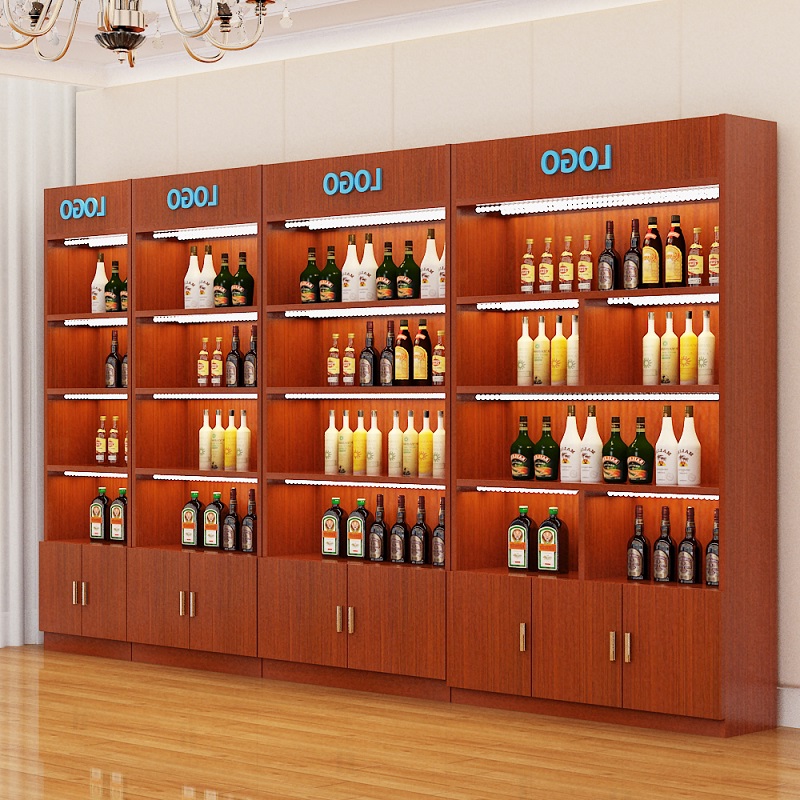 To take advantage of the area, as well as to decorate the showroom more beautiful, in addition to the shelves that display cosmetics close to the wall, the cosmetic display table will often be located in the center, to display new models as well as hot products of the store.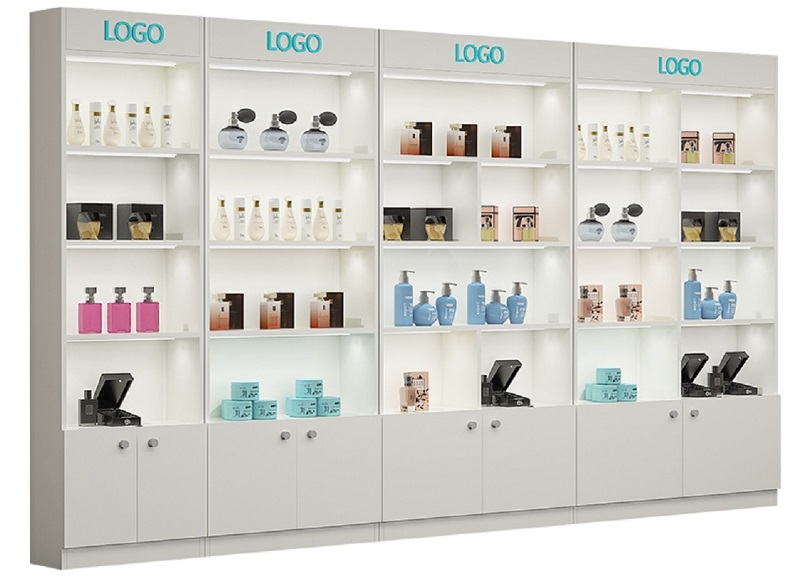 We design sleek, in accordance with the style of showroom, store, reasonable size, calculation of traffic in the shop, creating a comfortable proximity for customers when viewing products. These products have the right height for the eyes of customers to recognize the product.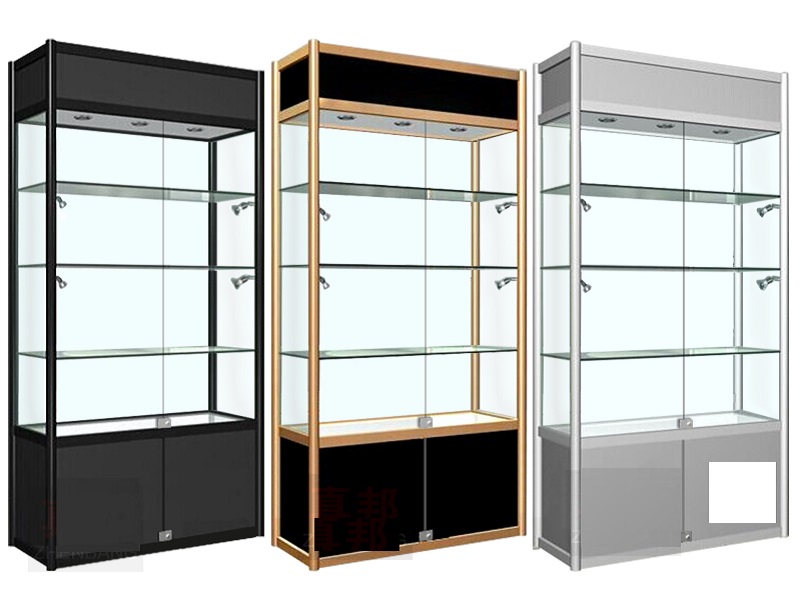 The product is made of iron frame, painted black. The exterior makes decorative shelves so that the shop can showcase many models of products for each brand. Above the top of the shelf, if necessary, will be designed individual logo templates for each brand that cosmetics shop business.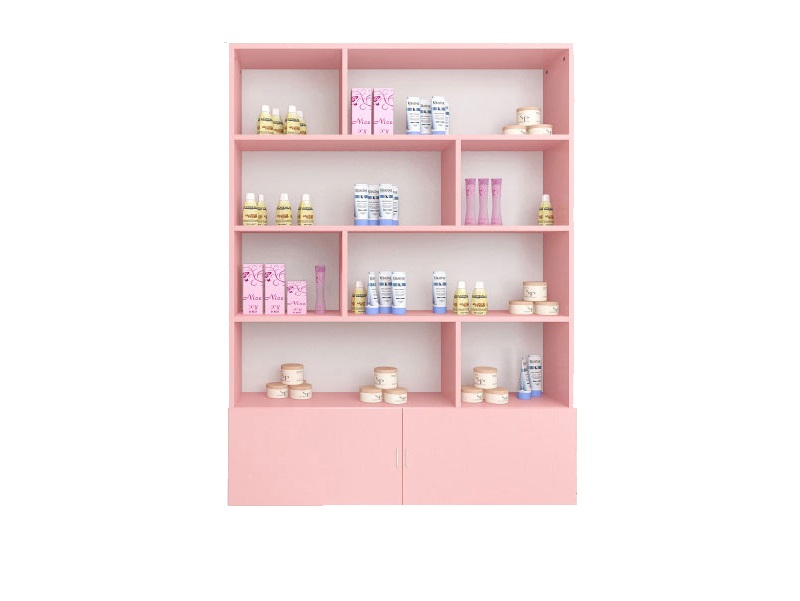 The Cabinet model with exquisite and modern lines is suitable for many styles,compact sizes showcase exquisite. With two enclosed storage zones and shelves convenient for product decoration.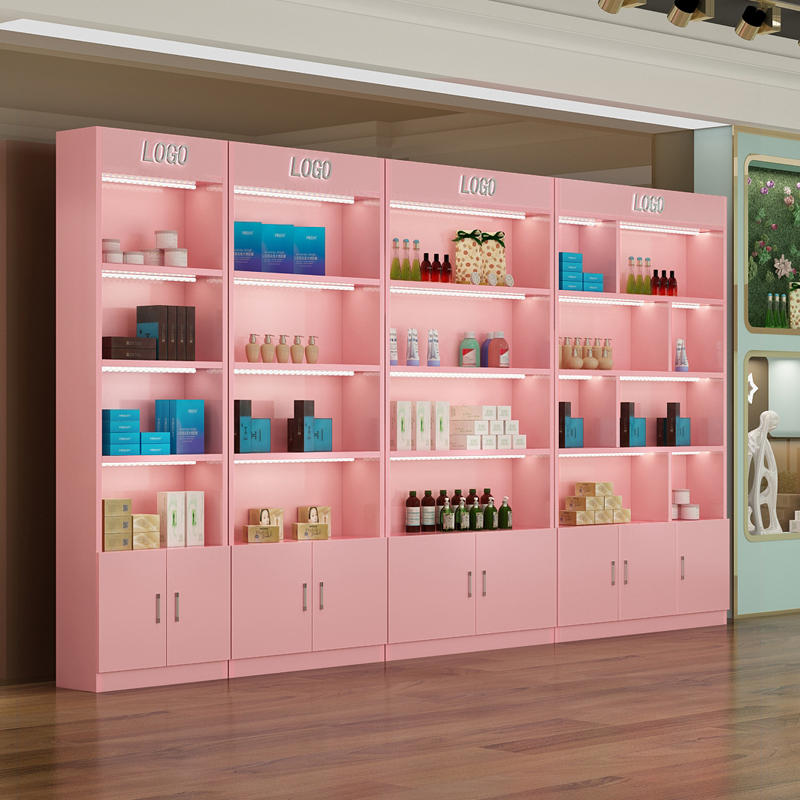 A Dong is committed to using these materials to produce showroom cabinets always good, ensuring high durability. MFC board, powder coating to showcase beautiful and more attractive products. Display cabinet height at low range from 0.8-1.2 m. this is the ideal height and vision of Vietnamese consumers.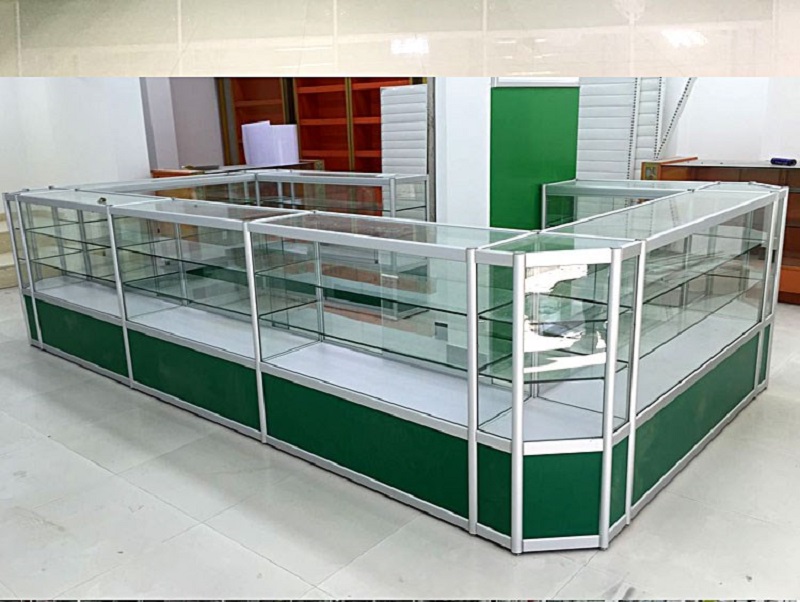 Cosmetic display glass cabinets harmoniously combined with brown wood and clear glass color for youthful design but elegant, design products glass shelves help to design the area but still display many products, good classification of products thanks to dividing many small cabinets.
Cosmetic display shelf quotes
To ensure the quality and get a quotation of cosmetic display shelves for the most specific, detailed and prestigious shops, showrooms, please contact us via hotline 091.999.7403 – 093.996.0403 (Ms.For advice as well as quickest quotes. A Dong is one of the leading companies in the field of furniture, manufacturing counter and shelves, to meet the right time, sufficient quantity, quality assurance for partner units who have trusted to cooperate with A Dong.
Design services – manufacture-installation of counters, shelves, cosmetic display cabinets
Currently, it is difficult for you to find a company or supplier selling prestigious cosmetic display shelves, but that does not mean that you can not find any unit.
A Dong is one of the units specializing in manufacturing, directly providing cosmetic display shelves, cosmetic display cabinets, prestigious cosmetic display glass cabinets for many major partners throughout the country. Our counter-shelf products provide large partners such as: Sony, Mobile World, Huewei, Long Chau pharmacy, Thien Long, ICA in large quantity.
We advise to arrange shelves before sales of A Dong always ensure the right and enough needs and business purposes and make estimates so that customers can predict your initial funding:
We have models of shelves, cosmetic display cabinets so that customers can choose the right style for cosmetic showroom design. Or if we want to design our own we will follow the steps:
Step 1: survey the customer's store, showroom.
Step 2: after grasping the correct dimensions, design ideas, technical drawings, the number of shelves to equip the store.
Step 3: Send customers to browse and edit.
Step 4:overall quotation and display shelf details according to drawing.
Step 5: sign contracts, manufacture and installation.
Step 6: Karma collection and warranty, maintenance.
Are you looking for units specializing in interior construction showroom, manufacture of prestigious cabinet shelves, quality? want to choose a company specializing in providing quality cosmetic shop services prestige? A Dong is the choice for you, we build furniture, produce showroom cabinets, cosmetic shops, with many years of experience in the market, operating in the field of design, ensuring to bring high quality products, beautiful design.
To get the best quotation and advice for you, contact A Dong by hotline 093.996.0403 (Ms.Thu). With years of experience specializing in interior design for shop, showroom, shop, apartment, IGN owns the 2nd factory with an area of 20, 000m2 in Dong Nai will meet the progress of customers across the country.