Point of Purchase (POP) or Point of Sale (POS) is a marketing method used to sell products or merchandise. They are typically placed where all the elements of business – products, consumers, and money – come together. By using display and sales products, marketers compete with each other to influence customer shopping behavior. The majority of purchase transactions are not decided until the customer arrives at the store, which clearly demonstrates that a simple product display and sales can also influence them without having to change the retail price of the product.
Display can be as simple as using Shelf Talker (messages, promotional programs attached to product shelves, can be accompanied by spring clips or LED lights to increase visibility), an eye-catching product arranged on the side of the shelf to attract attention when shoppers pass through aisles. Or suppliers can build a synchronized display system with their entire range of products, helping them stand out from other brands, easily recognizable in the retail market.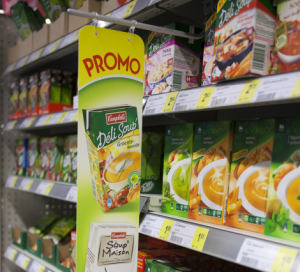 Shelf Talker – Simple promotional program introduction sign
Retailers or trade partners always support manufacturers with creative or vibrant programs at their stores to attract consumers to shop. Although they may assist in competition, due to the diversity of available means, marketers must carefully manage their programs to ensure that both retailers and consumers perceive consistency and harmony. Recognizing the importance of supporting commerce is not enough. Any program of any store is only effective when the quality of the implemented program is at the store level.
One of the main benefits of display and sales products is that they can be designed according to requirements:
To fit the merchandise
To convey brand values
To create emotional connections
Or to meet any conditions ensuring that display and sales products are properly implemented at the store level.
With strong visual impact, the display and sales products are designed to:
Attract the attention of consumers
Reinforce brand recognition, awareness, or recall
Stimulate unplanned, latent, or spontaneous shopping needs
Product display and sales make shopping more enjoyable through carefully considered business strategies. The layout, segmentation, and communication provide convenience for easy access, navigation, inspection, and product selection. Product display and sales can include various accessories, such as dividers, lighting, brochures, samples, or discount vouchers to stand out amidst cluttered store displays. Sometimes, to extend the lifespan of display products, they can be designed to be flexible and suitable for conveying multiple messages, segments, or even new product lines.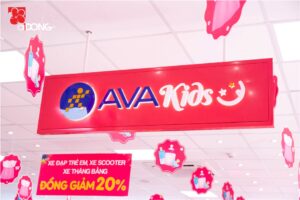 Banner inside the house is designed and manufactured by A Dong for the AVAKids mother and baby store chain
Product displays and sales can be developed to support sales associates, reinforce messages for both commerce and consumers, provide support through sales processes, encourage sales associates to push displayed merchandise instead of competing for sales, and increase sales volume on the first shopping visit of the buyer.
Just as the manufacturing industry is calling for environmentally friendly products and sustainable production methods, product display and sales suppliers are relying on many design decisions that have environmental consequences, promoting the use of recyclable materials and materials containing recycled components.
What are the types of products displayed and sold at retail points?
Perhaps the simplest form is advertising signs. Information, promotions, education, or entertainment are services and products that silent sellers provide.
Sản phẩm trưng bày và bán hàng công phu nhất là mô hình cửa hàng trong cửa hàng, một cửa hàng trong cửa hàng là nơi nhà sản xuất đặt riêng một khu vực trưng bày trong cửa hàng, việc trải nghiệm hình ảnh độc quyền hoàn toàn dành riêng cho thương hiệu của nhà sản xuất giúp hàng hóa của họ khác biệt hơn so với những thương hiệu còn lại.
Giữa biển quảng cáo và mô hình cửa hàng trong cửa hàng, hiện nay đang có rất nhiều phương tiện và ngân sách phù hợp cho bạn như:
Shelf glorifier, stand or rack
Display windows and fixed advertising sessions
Specific sales solutions, branded items, …
Where are display and sales products used?
Display and sales products provide opportunities for direct communication with consumers in:
Grocery stores, mini supermarkets, large supermarket chains.
Convenience stores.
Specialty stores such as fashion, sports, entertainment, beauty, etc.
Showroom.
Models such as restaurants, bars, hotels.
Or service counters at banks, post offices, etc.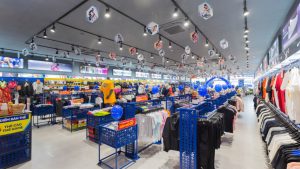 A Dong provides comprehensive display solutions for the AVASport sports store chain
In the past, you might find display products in the checkout area, typically used to display smaller items sold as impulse purchases. But nowadays, brand manufacturers and retailers have discovered that display and sales products can be placed throughout the store to generate more profit.
Pay attention to the benefits of the brand manufacturer, the products designed for display and sales in a specific type of store and for a specific area within the store. Implement in a clear and practical manner in terms of finances, as they reflect the level of support and feasibility in commercial operations.