Currently, in order to increase market share, retail supermarket chains continuously expand their scale and business locations with uniformity in image, brand identity, and display space. With many years of experience in supplying supermarket shelves for Asian supermarket chains, we confidently provide various types of supermarket shelves, display props for supermarkets, commercial centers, mini supermarkets, convenience stores, sales points for MT, GT channels, etc. with diverse designs and sizes.
The service provides iron shelves, supermarket shelves for store chains, supermarkets, MT, GT sales channels
As a leading supplier of supermarket shelves, A Dong brings customers design – production – installation services with supermarket shelves using a wide range of materials. From basic shelves, materials such as iron, steel, stainless steel, tin to display cabinets, high-end product experience tables made from glass, wood, stone, acrylic or signage boards, aluminum, tinplate, mica…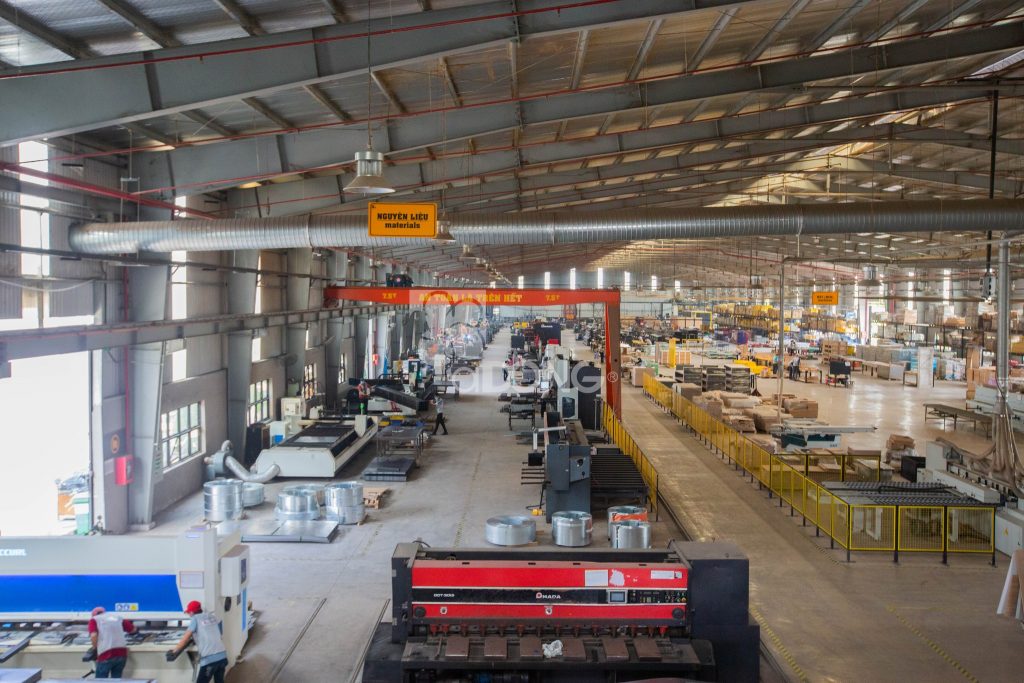 We provide product display shelves according to available templates or custom designs for:
Chain stores, supermarkets, shops…
Sales points for the General Trade (GT) channel.
Sales points for the Modern Trade (MT) channel.
The production capacity of A Dong
We have experience in constructing over 30,000 projects, delivering over 150 projects per month, and over 2,000 projects per year for major partners such as Thế Giới Di Động, CellPhone S, Điện Máy Xanh, Bách Hóa Xanh, Nhà Thuốc An Khang, AVakids, Circle K,… In addition, there are also major brands such as Pepsico, Huawei, Realme, Oppo, Apple, Toshiba, Aukey, Belkin,…
The A Dong factory in Tam Phước Industrial Park, Biên Hòa, Đồng Nai, covers an area of 20,000 m2 with a total investment of 150 billion VND. It is equipped with modern production lines and meets ISO 9001 standards. The factory can supply all products for display and sales or display props for 3,000 stores per year.
A Dong imports a modern machinery system from Europe, allowing for fast and cost-effective mass production. The high precision machines produce large quantities of products with consistent quality, high aesthetics, and intricate details.
We can produce supermarket shelves from basic materials such as iron, steel, stainless steel, and sheet metal, as well as high-end, luxurious display cabinets, and experiential product tables made from glass, wood, stone, and acrylic.
Retail chains, brands, GT channels, and MT channels can find all the necessary products to fully equip a store in A Dong
Typical supermarket shelves in A Dong provide for supermarket chains
Single supermarket shelves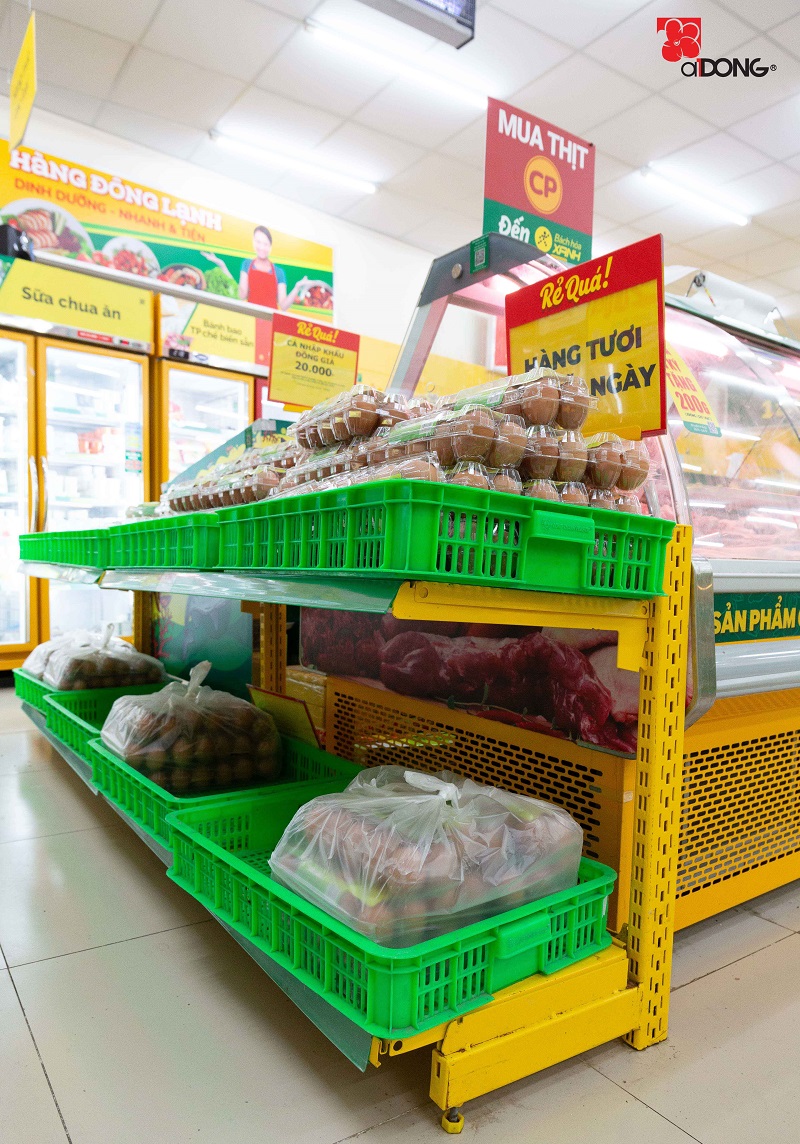 The supermarket single shelf model is provided by A Dong for the Bách Hóa Xanh store system
Also known as single shelves, this is a product used in supermarkets and convenience stores with one side. This type of shelf is designed and manufactured by Asia for placement in small spaces in stores. The number of shelves will depend on the needs of the supermarkets, typically single shelves will have 3-5 levels to display products of various sizes.
Supermarket wall shelves
Supermarket wall shelves, single wall shelves, wall shelves,… are a set of shelves with one side for displaying goods and designed to be placed against the wall. The other side of the shelves is the back part to separate the goods from direct contact with the wall, preventing dampness and damage.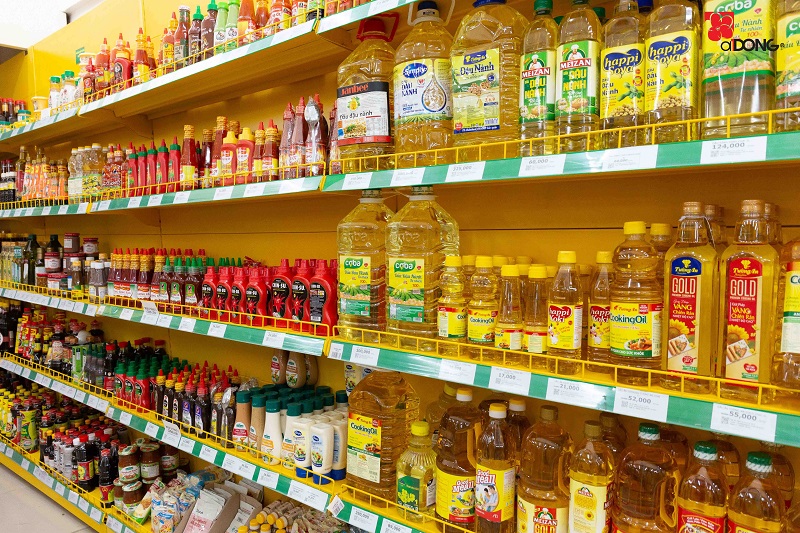 Wall-mounted supermarket shelves made of iron, electrostatically painted, with large dimensions that hug the wall to maximize display space at Bach Hoa Xanh
Wall-mounted shelves in A Dong are made from materials such as electrostatically painted iron, wood, or glass depending on the display and usage needs of customers. This type of shelf has a very high durability, lasting for many years without deterioration, while also having a high load-bearing capacity and maximizing the use of empty wall space.
Double supermarket shelf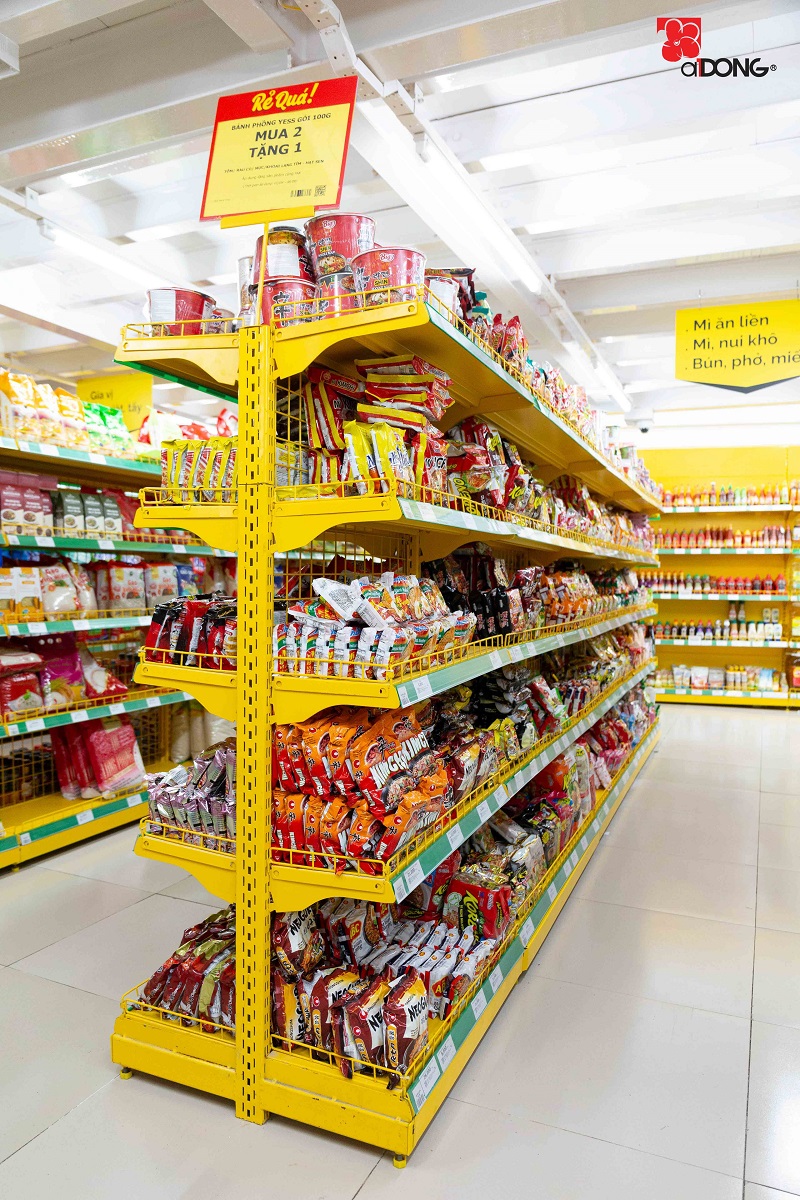 Double-sided supermarket shelves can display more goods and products
Double-sided supermarket shelves are a type of shelf with 2 sides formed from a series of single-sided supermarket shelves leaning against each other, sharing the same base and frame, helping to save costs. Double-sided supermarket shelves are usually arranged in the middle rows of supermarkets, stores, allowing customers to have a better shopping experience and display more goods and products.
Supermarket grid shelves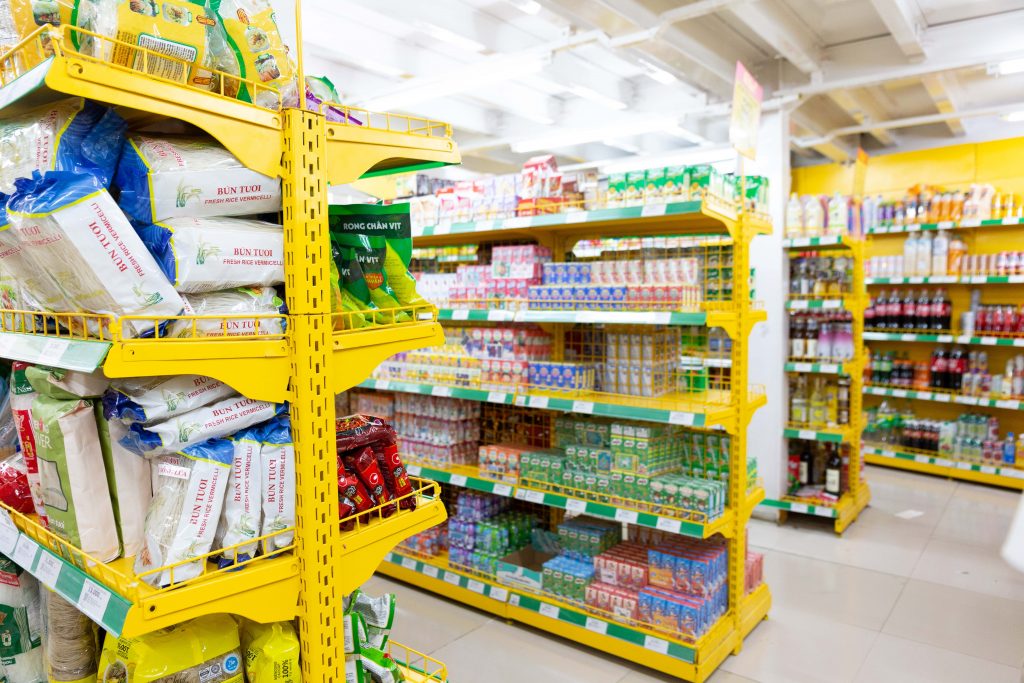 Double-sided supermarket mesh shelf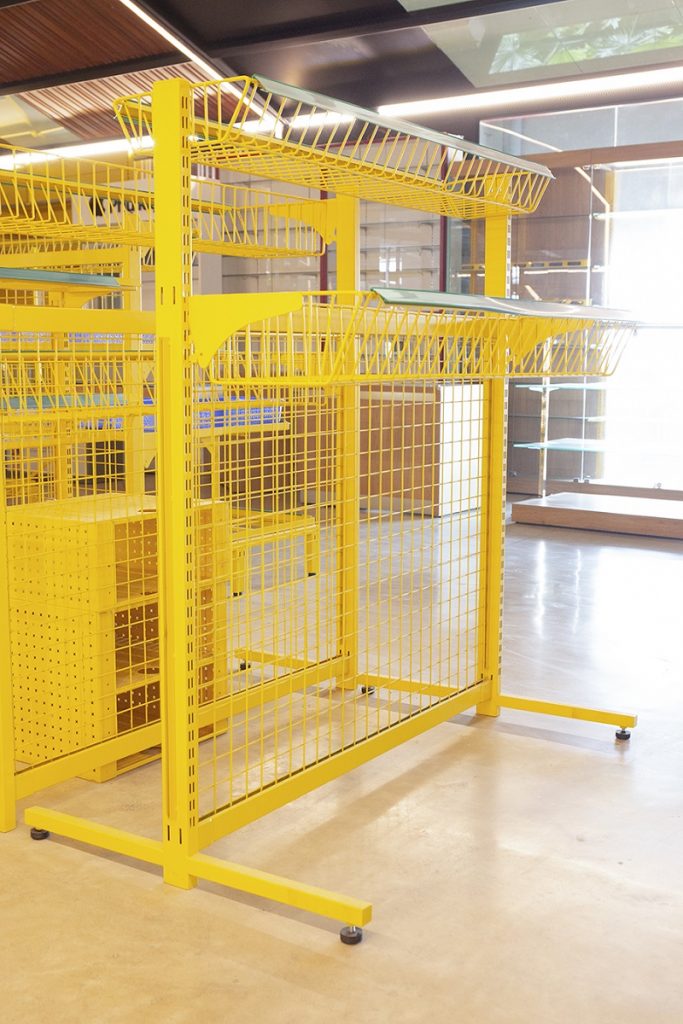 Single-sided supermarket mesh shelf
This is a type of supermarket iron shelf with a back design made from electrostatically painted iron mesh frame. The advantage of the mesh shelf is that it utilizes the mesh back so it can be used to display various types of goods for diverse purposes, creating a spacious and airy environment for supermarkets and stores.
Supermarket corrugated iron shelf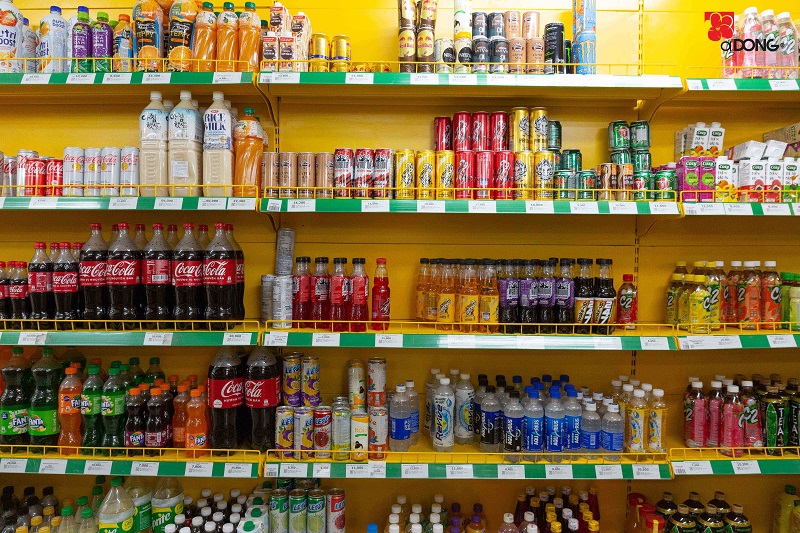 Wall-mounted shelves with sturdy steel back and high load-bearing capacity
This type of shelf is made of steel with a solid back panel, ensuring complete stability. It is particularly durable and can withstand heavy loads, making it a popular choice for displaying various items in supermarkets, such as consumer goods, household items, and electronics.
Perforated steel shelves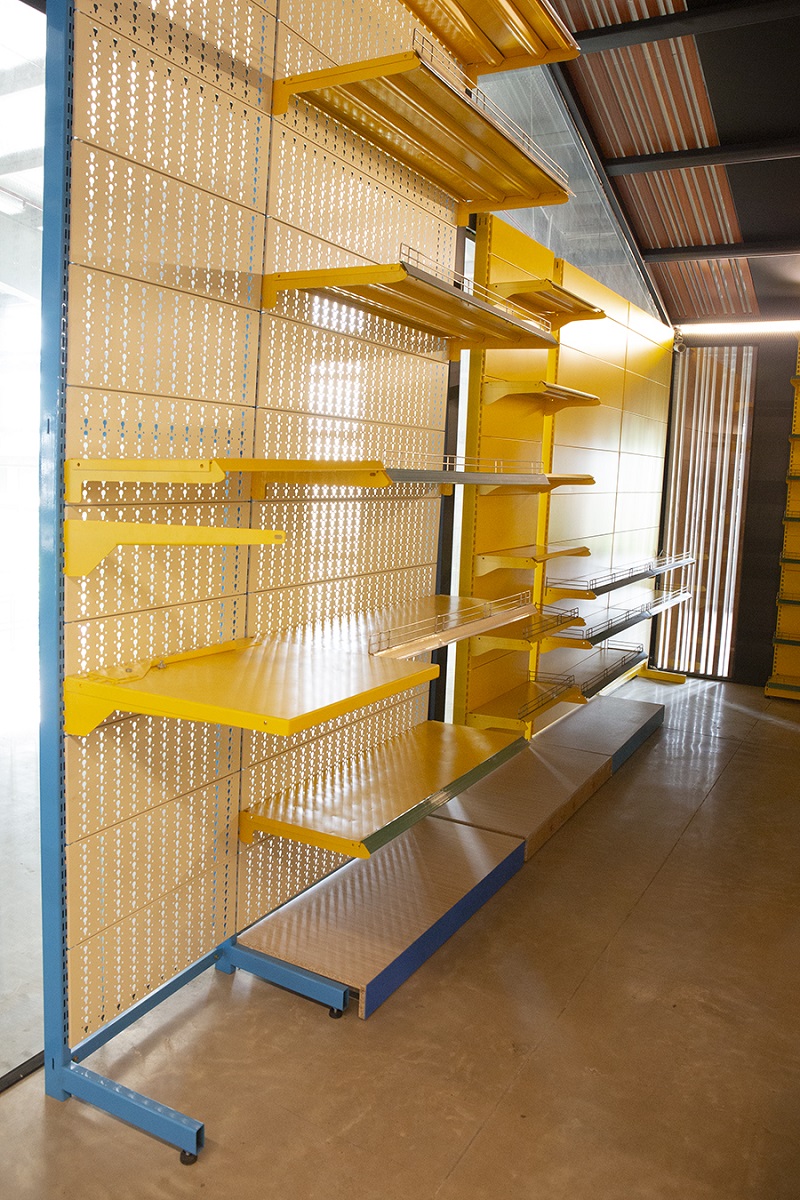 Shelf with perforated back and decorative patterns for aesthetic and impressive design.
The design of the shelf with perforated back is made of tin sheets with decorative patterns that create a high aesthetic value. It is especially sturdy and durable, allowing supermarkets to display various types of products, suitable for all common consumer goods.
Supermarket square shelf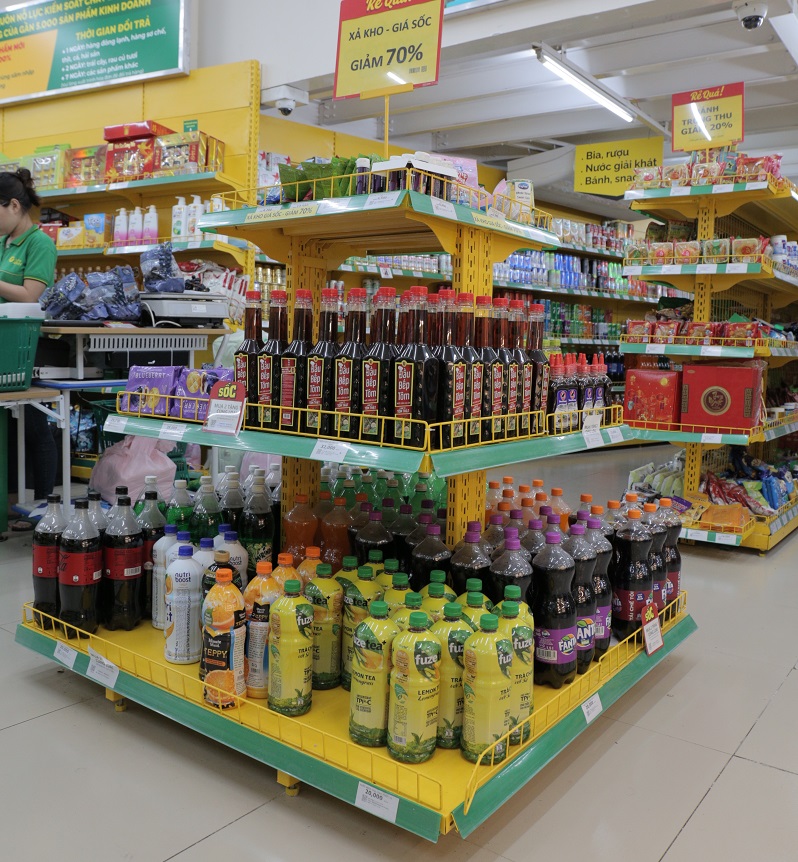 This is a type of supermarket display shelf with square shelves, eye-catching design, easy to attract customers. The shelf is made of high-quality electrostatically painted iron material, so the product is very durable. The parts are produced separately, making it easy to transport and assemble. The biggest advantage of this type of shelf is its excellent product and brand promotion.
Supermarket vegetable and fruit shelf
This is an essential type of shelf in supermarkets, specialized in storing fruits and vegetables. The prices for vegetable and fruit shelves in A Dong are as follows: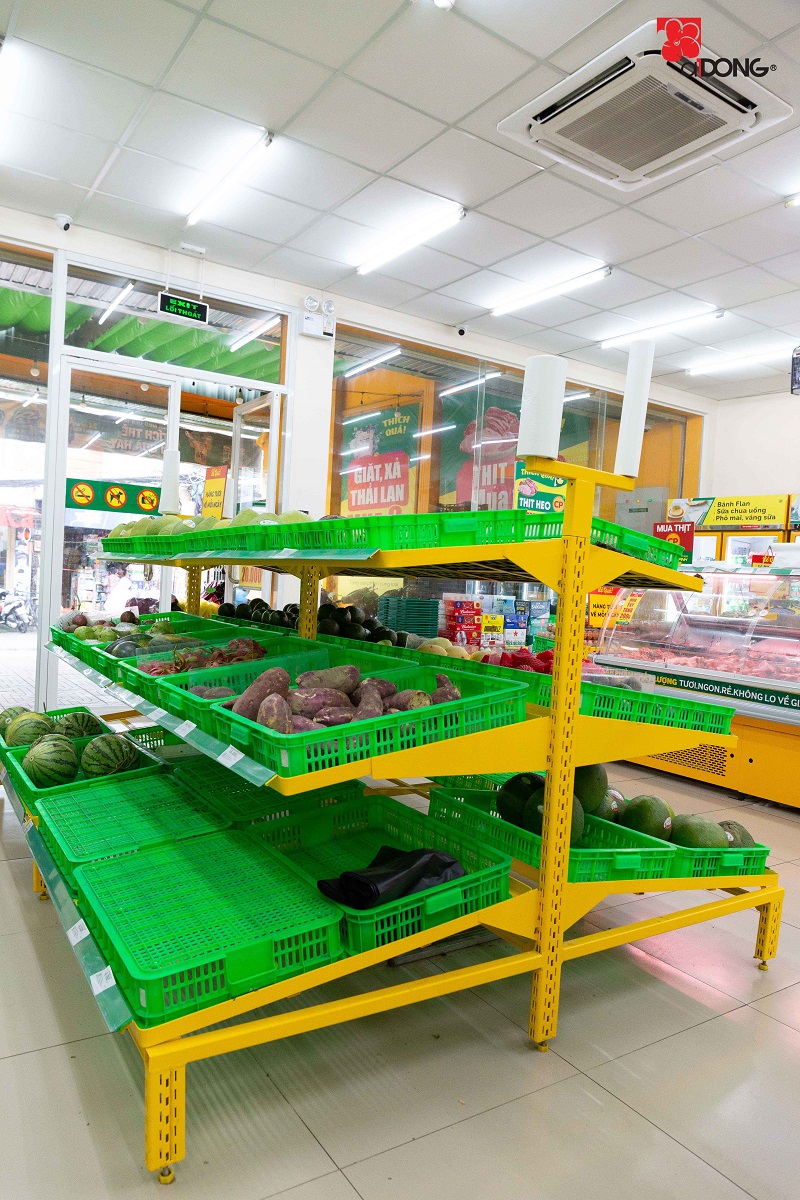 Iron vegetable rack combined with plastic basket
Premium 3-tier wooden vegetable rack with ladder design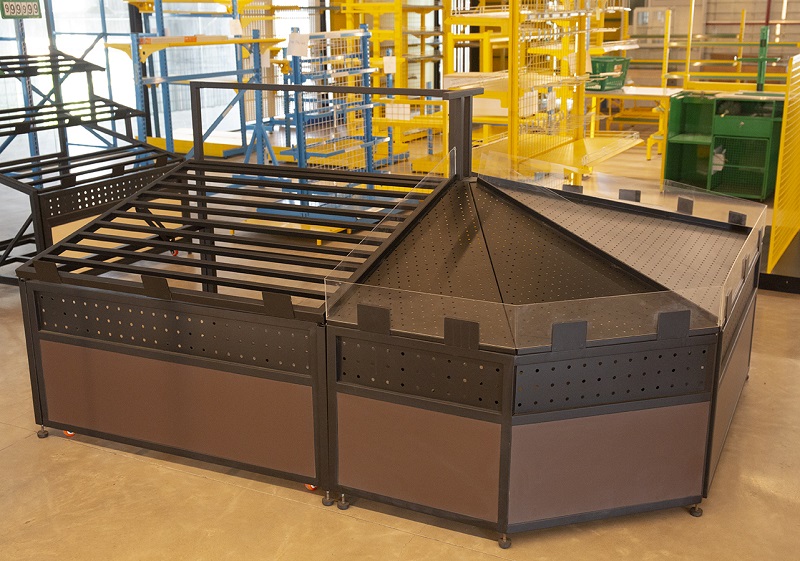 Premium vegetable display rack for large supermarket space, designed with sturdy frame, able to withstand heavy loads, durable electrostatic paint surface, resistant to rust, peeling.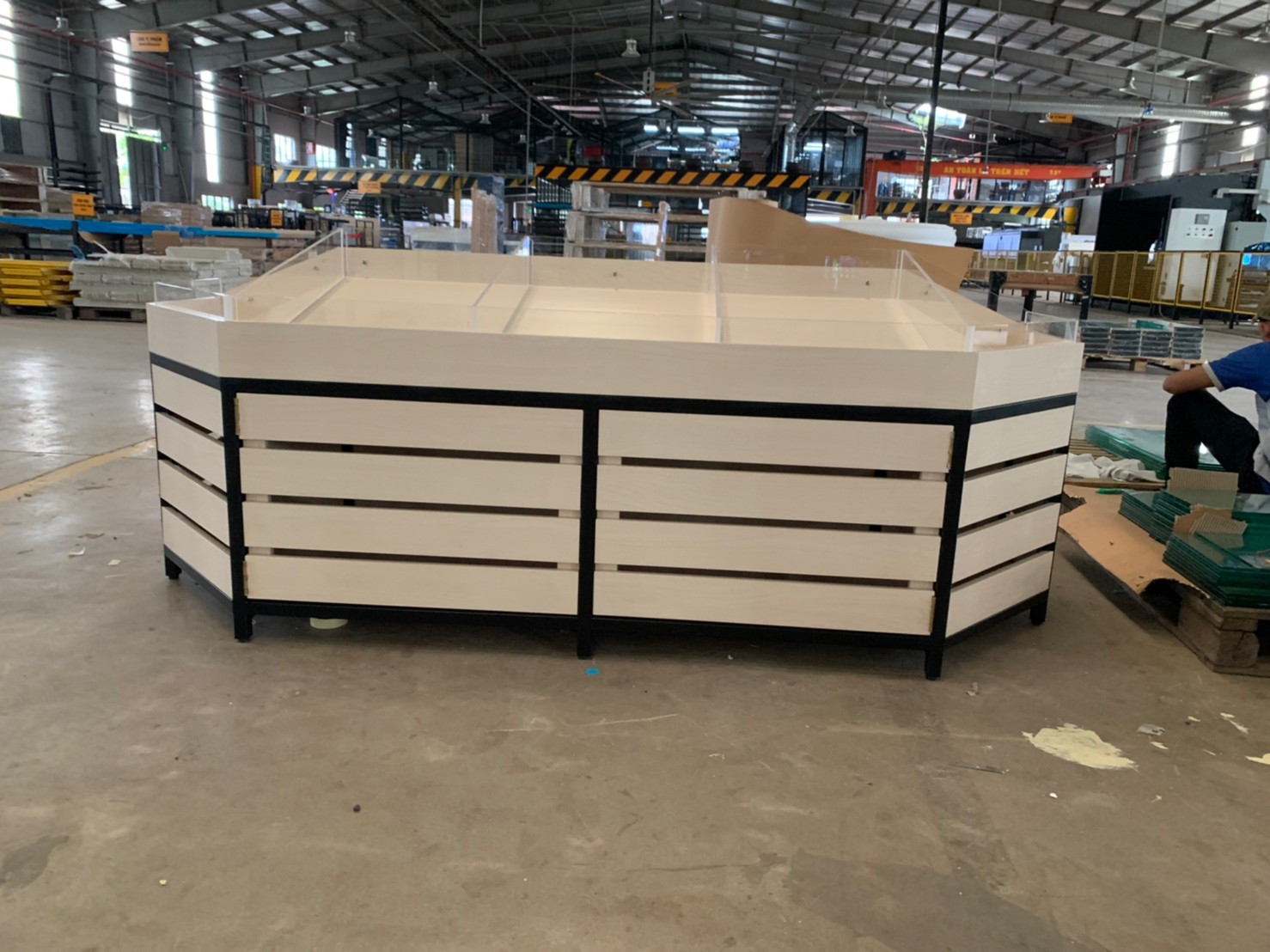 Premium wooden and iron combination display rack with elegant and modern design
Supermarket hanging rack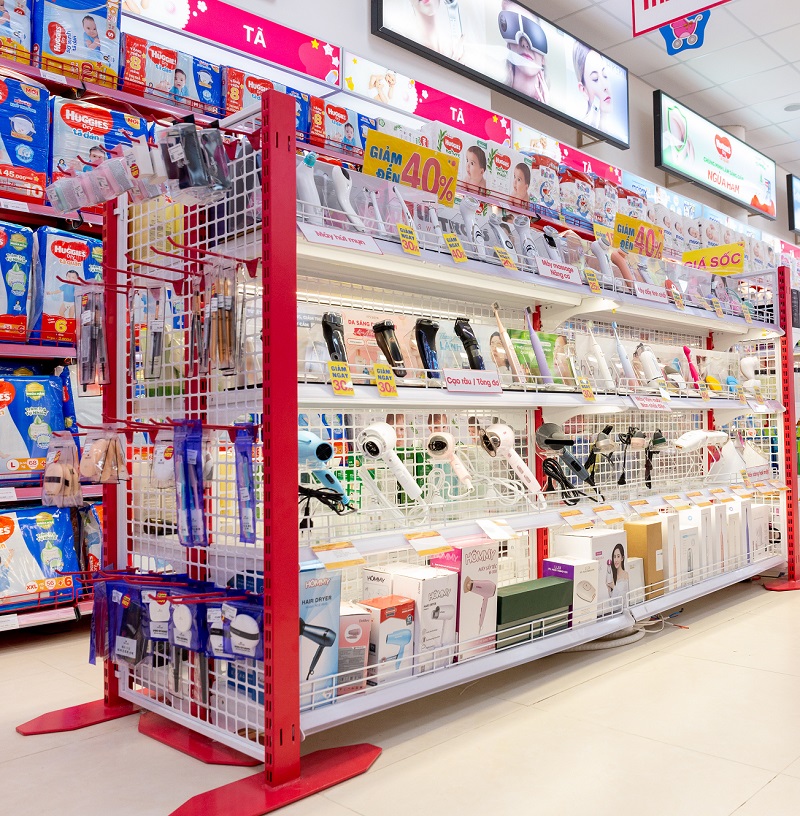 Supermarket shelves have hooks, commonly used for accessories, household items, souvenirs.
This is a model of shelf with hooks, commonly used in supermarkets, cosmetic sales areas, accessories. The main function of this type of shelf is to display special products such as household items, souvenirs,… directly attached to the back of the shelf.
And there are many other models of product display shelves provided by A Dong. In addition to the available models, we offer design, production, and installation according to customer requirements.
Retail chains, MT channels, and GT channels have a demand for product display shelves, product display cabinets, or product display props. Please contact us at the address and hotline below for consultation:
Hotline: 096.999.3037
Email: lethu.posm@adong.com.vn
Main office in Vietnam: 112/9 Pho Quang Street, Ward 9, Phu Nhuan District, Ho Chi Minh City – Vietnam.
A Dong Factory: Plot 130 – TBĐ, Industrial Cluster No. 8, Slope 47, Bien Hoa, Dong Nai.