Before the needs of retail brands to expand their store network, GT, MT, and A Dong channels bring the service of providing product display shelves and necessary display tools to equip the store chain, GT, MT sales channels nationwide.
Service of providing product display shelves for store chains, supermarkets, MT, GT sales channels
As a leading provider of product display shelves, A Dong offers design, manufacturing, and installation services to our customers with a wide range of products such as shelves, product display cabinets, and various display tools using diverse materials. From basic shelves made of iron, steel, stainless steel, and sheet metal to premium product display cabinets made of glass, wood, stone, acrylic, or aluminum signage, tinplate, mica…
We provide product display shelves according to available templates or custom designs for:
Chain stores, supermarkets, shops….
Sales points for the General Trade (GT) channel.
Sales points for the Modern Trade (MT) channel.
The production capacity of A Dong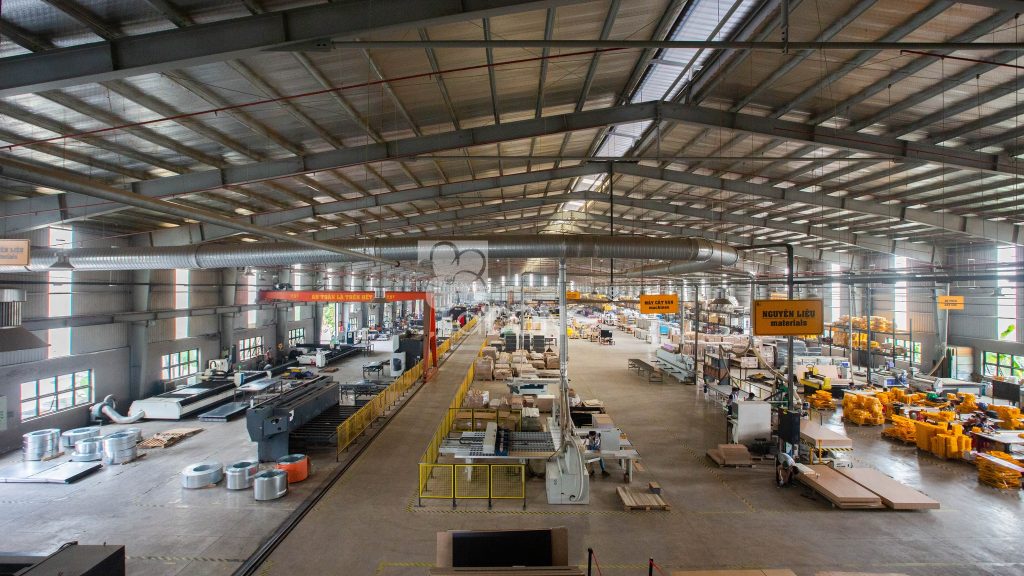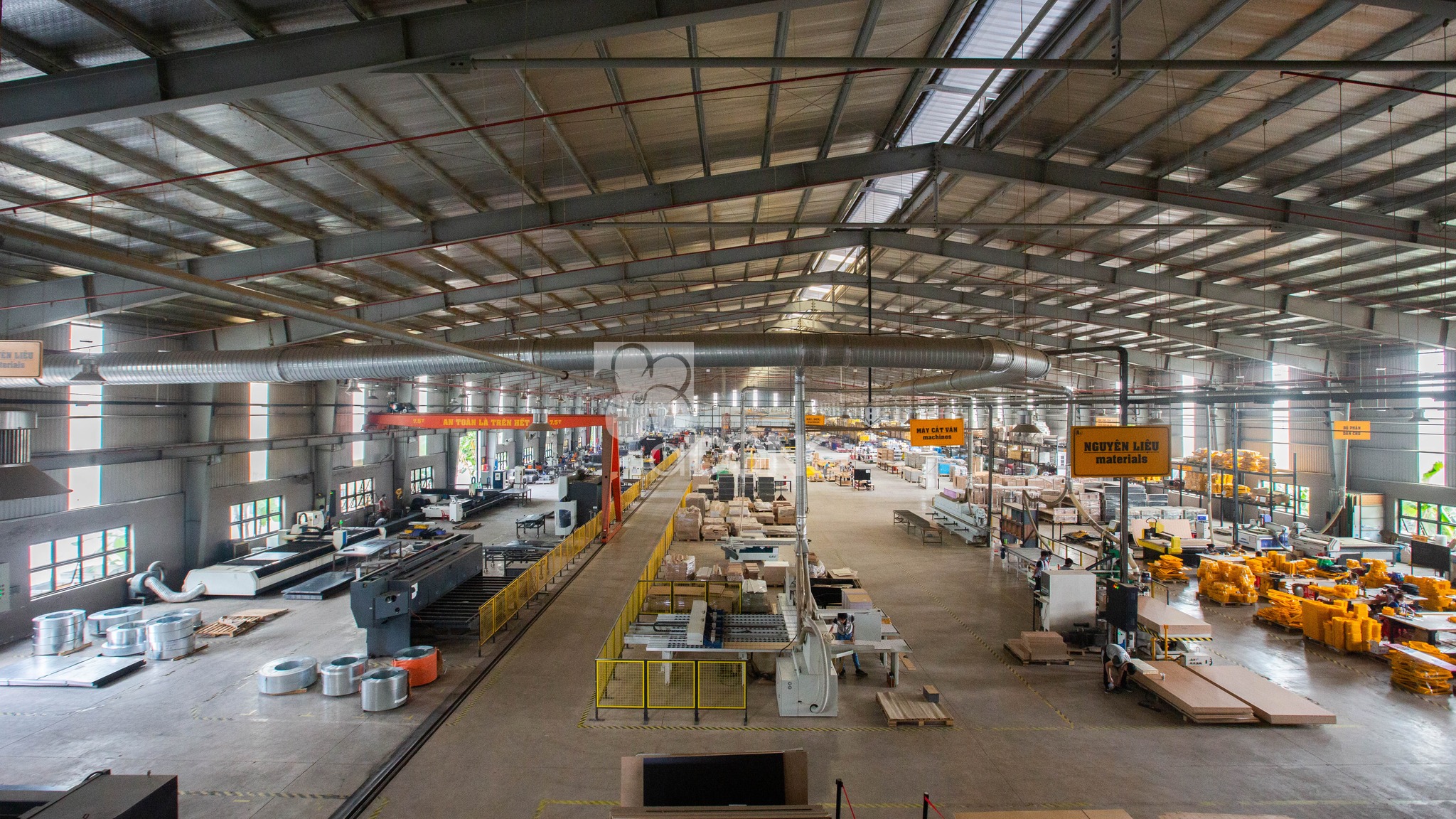 A Dong factory which gets a total investment of 150 billion VND, meets ISO 9001 standards and is equipped with modern machinery to serve the production of product display shelves
We have experience in constructing over 30,000 projects, delivering over 150 projects per month, over 2,000 projects per year for major partners such as Thế Giới Di Động, CellPhone S, Điện Máy Xanh, Bách Hóa Xanh, Nhà Thuốc An Khang, AVakids, Circle K,… In addition, there are also major brands such as Pepsico, Huawei, Realme, Oppo, Apple, Toshiba, Aukey, Belkin, …
The A Dong factory in Tam Phước Industrial Park, Biên Hòa, Đồng Nai, covers an area of ​​20,000 m2 with a total investment of 150 billion VND, equipped with modern production lines, meeting ISO 9001 standards. The factory can supply all products for display and sales or display tools for 3,000 stores per year.
A Dong imports a modern machinery system from Europe that allows for fast and cost-effective mass production. The high precision machines produce large quantities of products with consistent quality, high aesthetics, and intricate details.
We can manufacture various products, from basic materials such as iron, steel, stainless steel, and sheet metal to premium display cabinets, luxurious product experience tables made of glass, wood, stone, and acrylic.

Retail chains, brands, GT channels, and MT channels can find all the necessary products to fully equip a store in A Dong.
Sample display shelves suggested by A Dong Manufacturing
Display shelves for phone stores
A Dong has experience in manufacturing and supplying various types of shelves and display cabinets for phone store chains such as Thế Giới Di Động, Cellphone, Topzone, Topcare,… You can refer to the following models from us: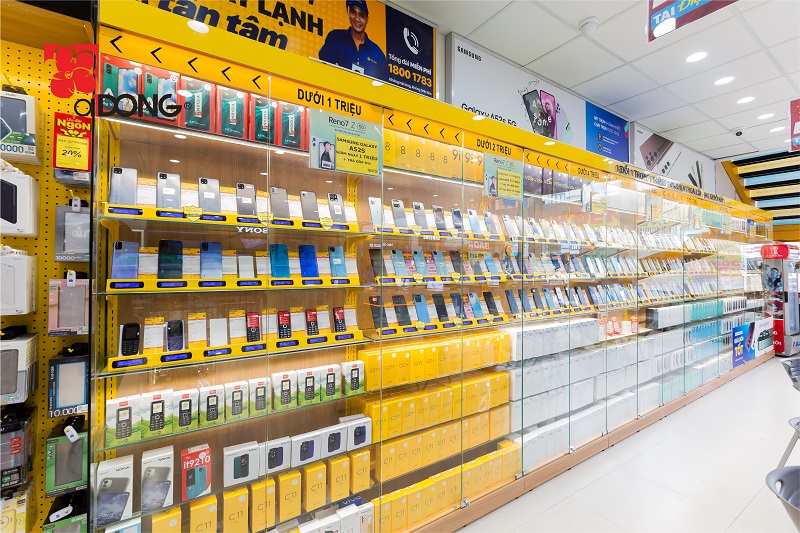 Glass display cabinets showcase phone products with a variety of sizes, styles, and materials.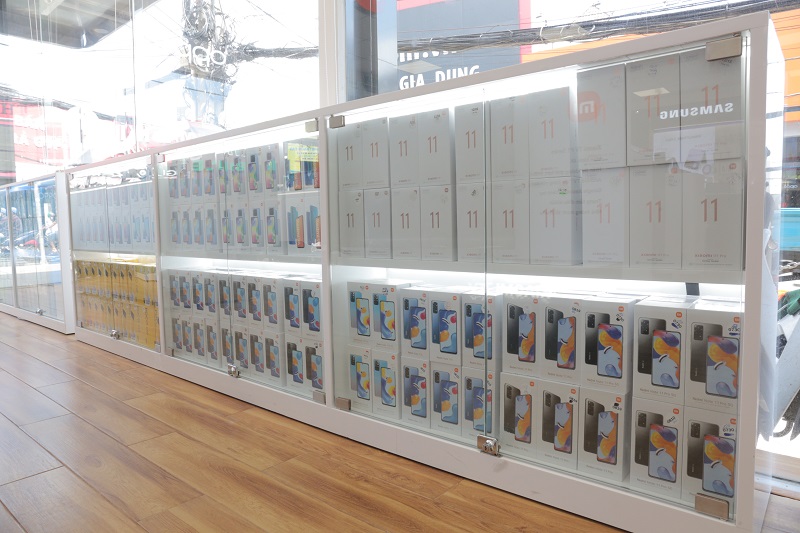 The glass display cabinet with LED lights helps the products stand out and attract more consumers.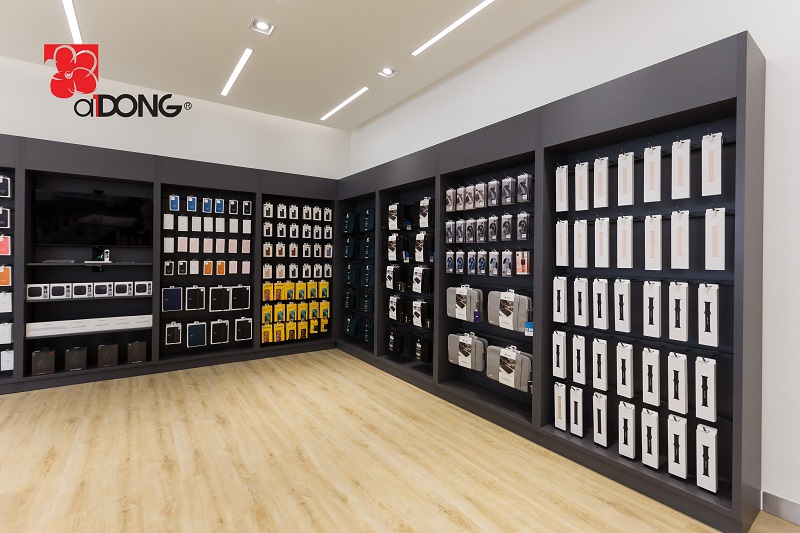 Wooden cabinets display phone accessories.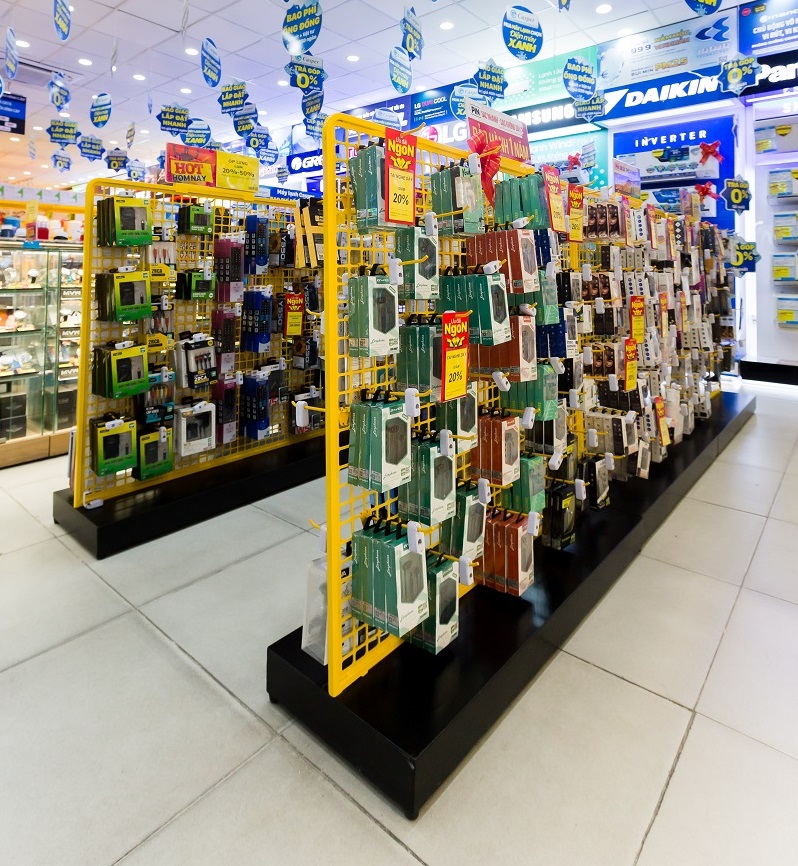 Phone accessory hanging prices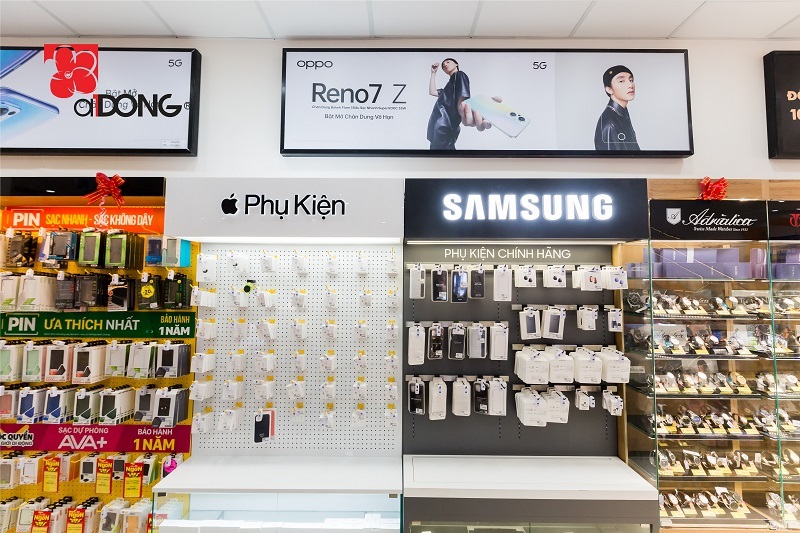 Premium display shelves for various brands
And many other products that you can order for chains, wholesale and retail channels in large quantities.
Display shelves for electronics stores
The products of electronic stores are very diverse, with the characteristic of having a large weight, so it is necessary to design display shelves that are both beautiful, convenient, luxurious, and ensure the weight of the products when displayed. Below are some samples from A Dong for your reference: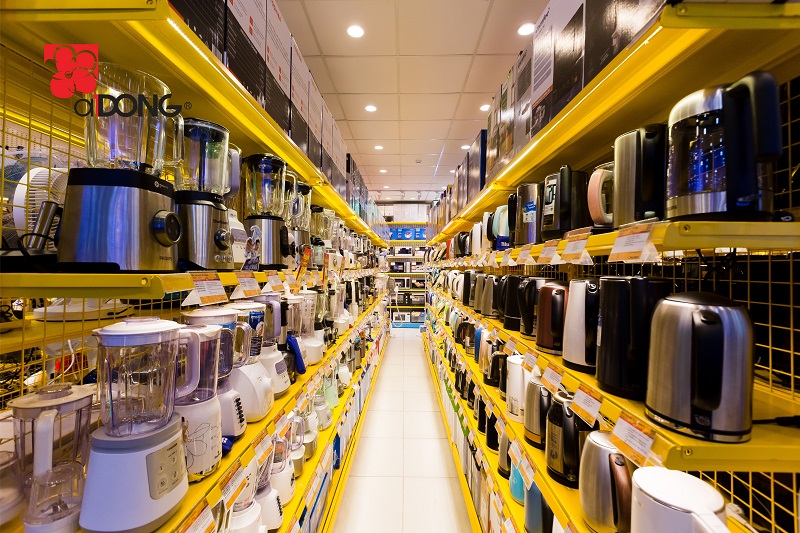 Display shelves with multiple layers can be flexibly adjusted in size to fit the products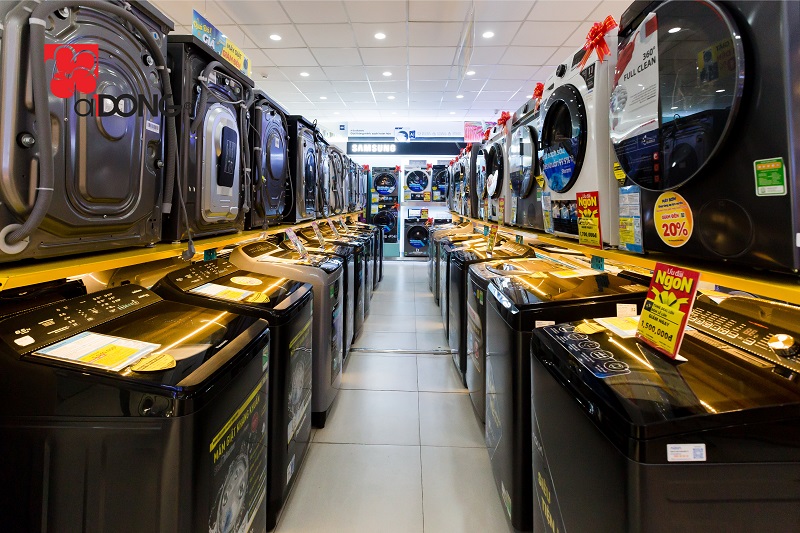 Display shelves for washing machines, with large dimensions and able to withstand the weight of the products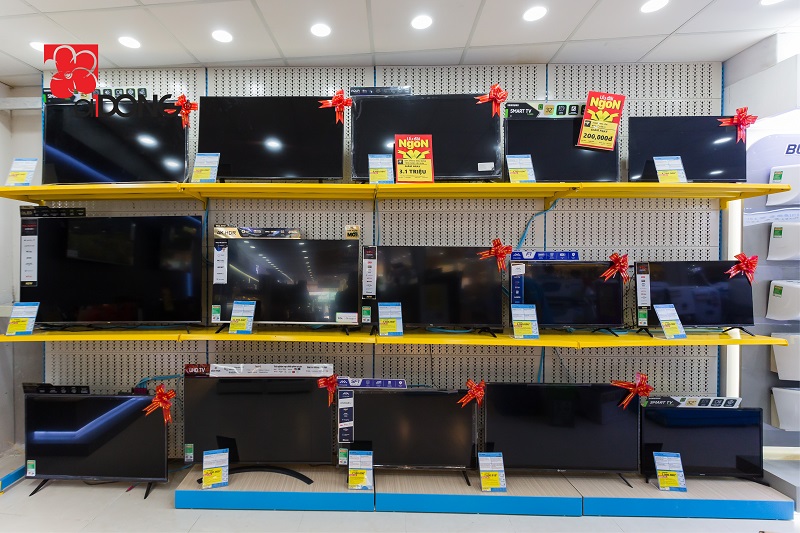 Display shelves with holes for displaying televisions at the electronics supermarket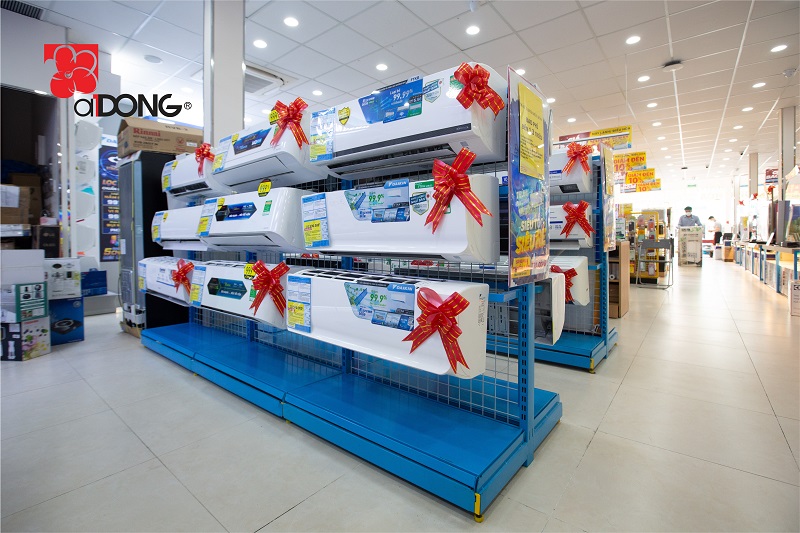 Mesh display shelves for air conditioners and refrigerators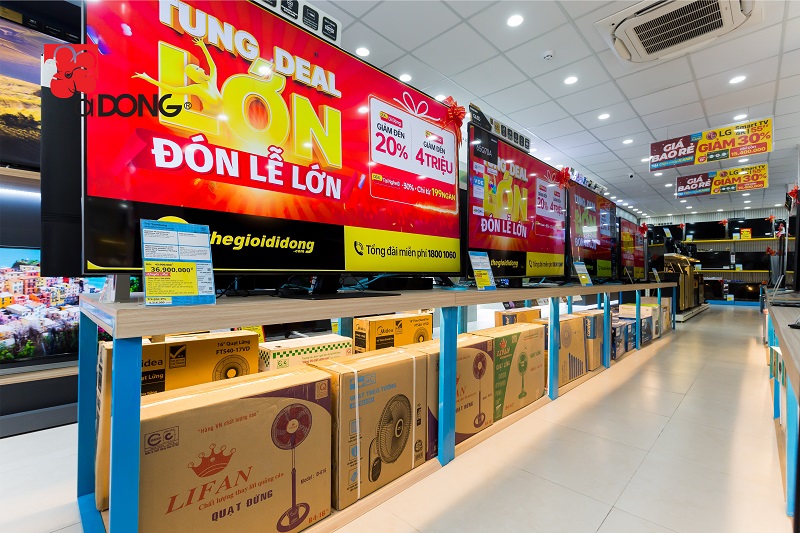 A model of iron and wood shelves for displaying products that can withstand heavy loads
Supermarket display shelves
Currently, supermarket display shelves are provided by A Dong with a variety of models, styles, sizes, and colors for supermarket chains with the following main models, customers can change the design, color, and size according to actual needs: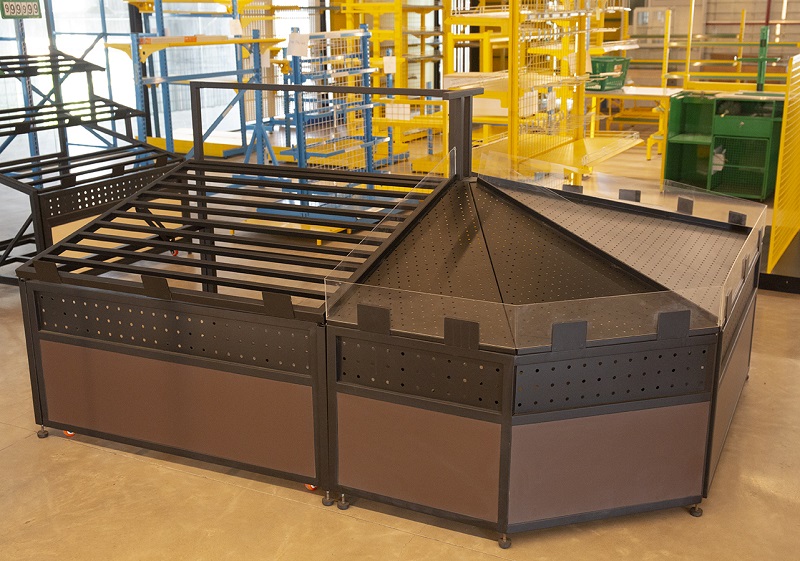 Display shelves for vegetables and fruits at supermarkets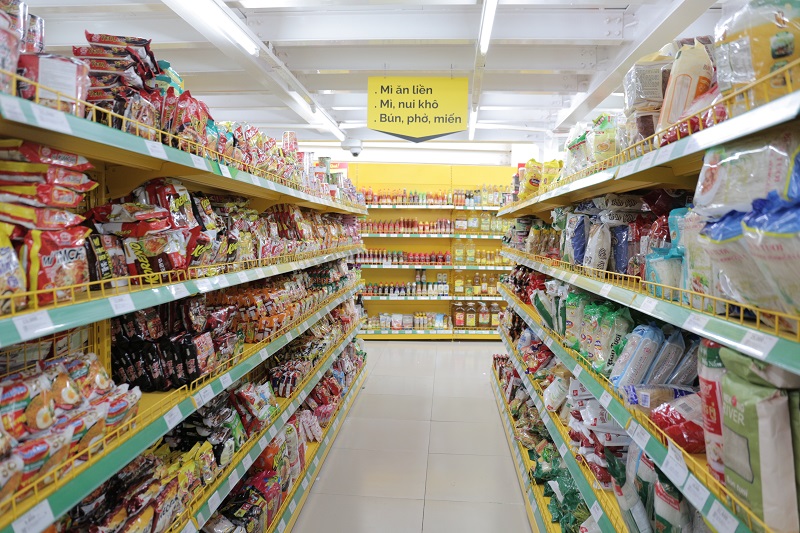 Supermarket iron display shelf models for displaying goods and products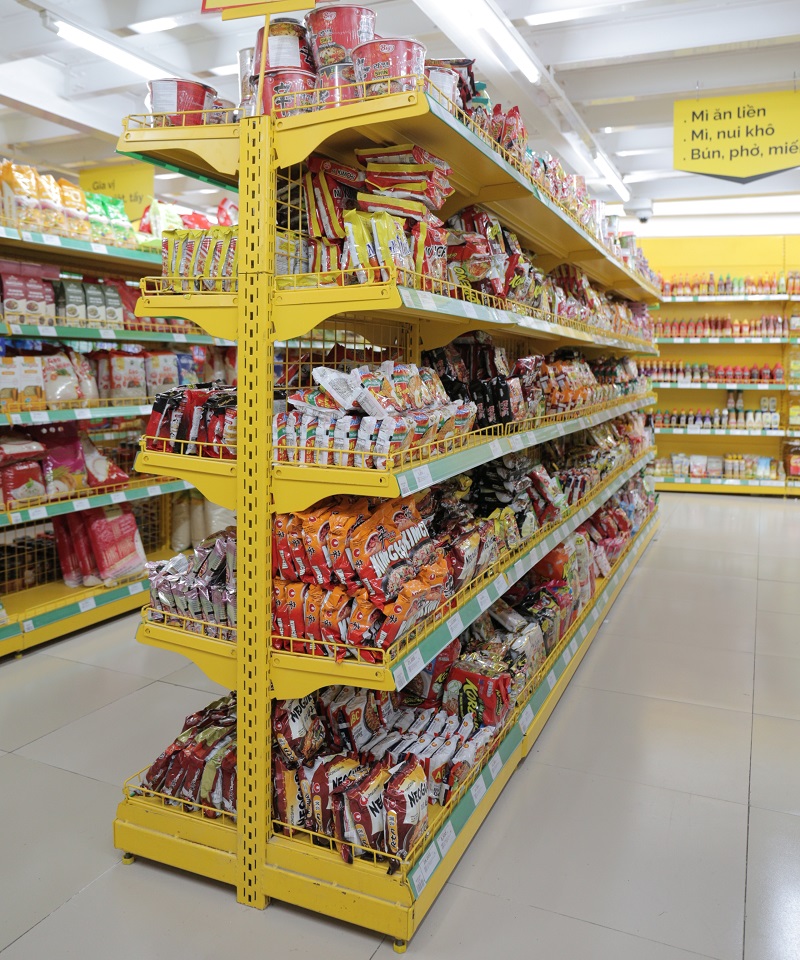 Double mesh shelf model with 5 floors for displaying goods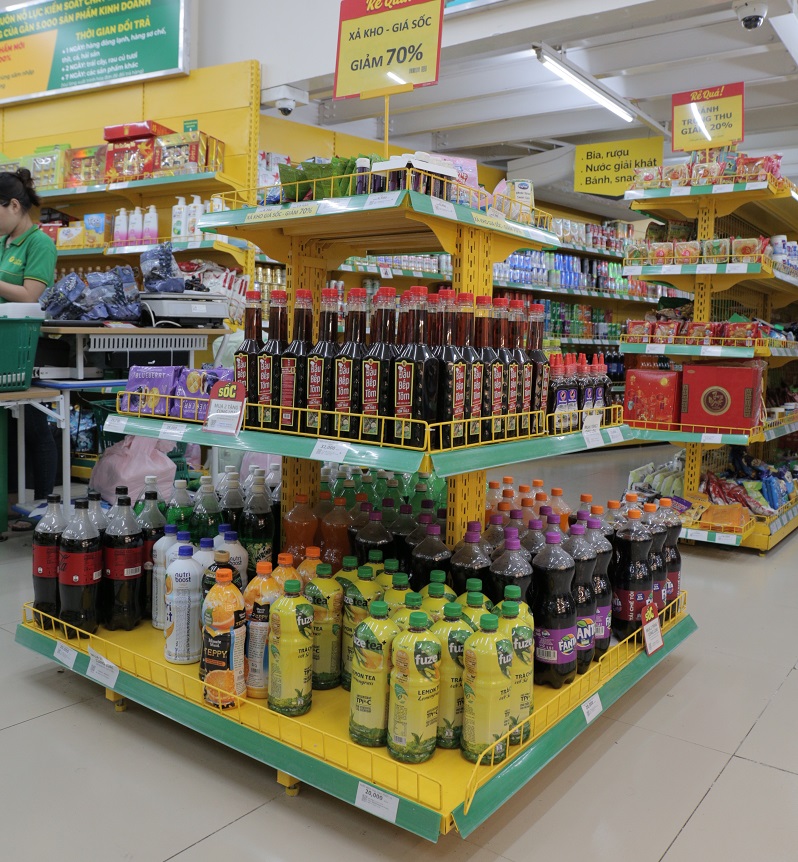 Island display shelves for promotional programs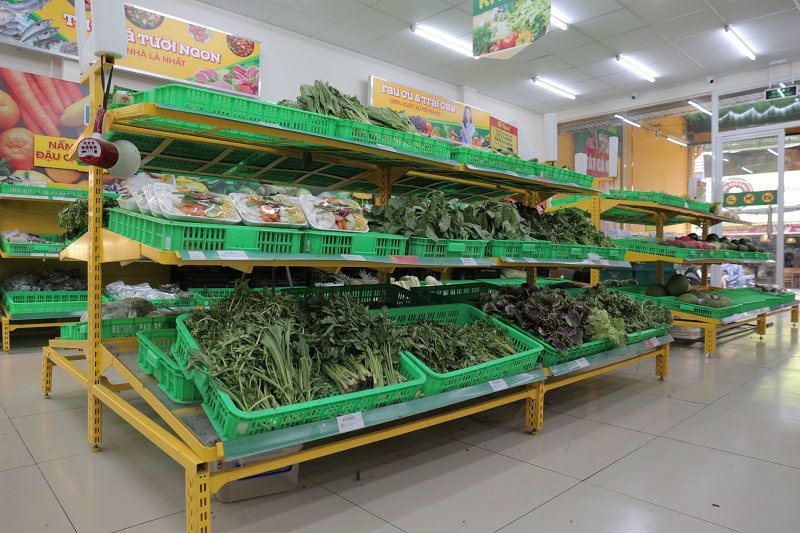 Display shelves for vegetables and fruits
Fruit display shelves at the supermarket made of luxurious iron combined with wooden baskets
Display shelves for fashion stores
Fashion stores need eye-catching shelves to highlight styles and effectively display products. Below are some models that A Dong has provided for fashion store chains: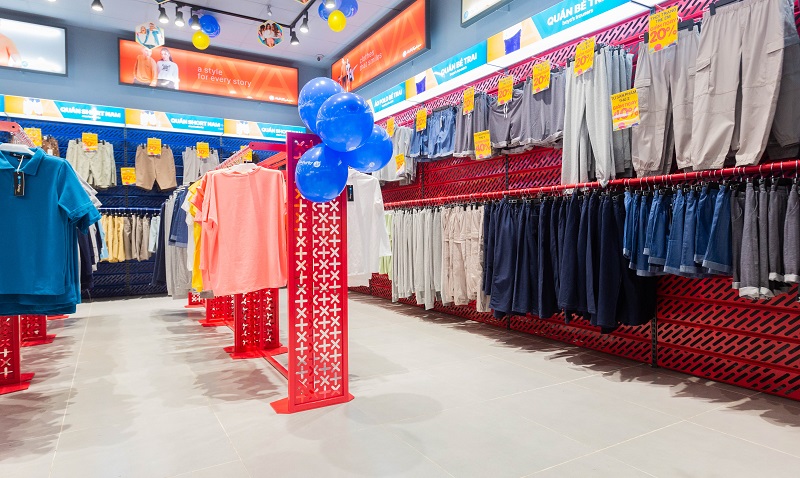 Model clothes shop shelf, with a design using perforated metal sheets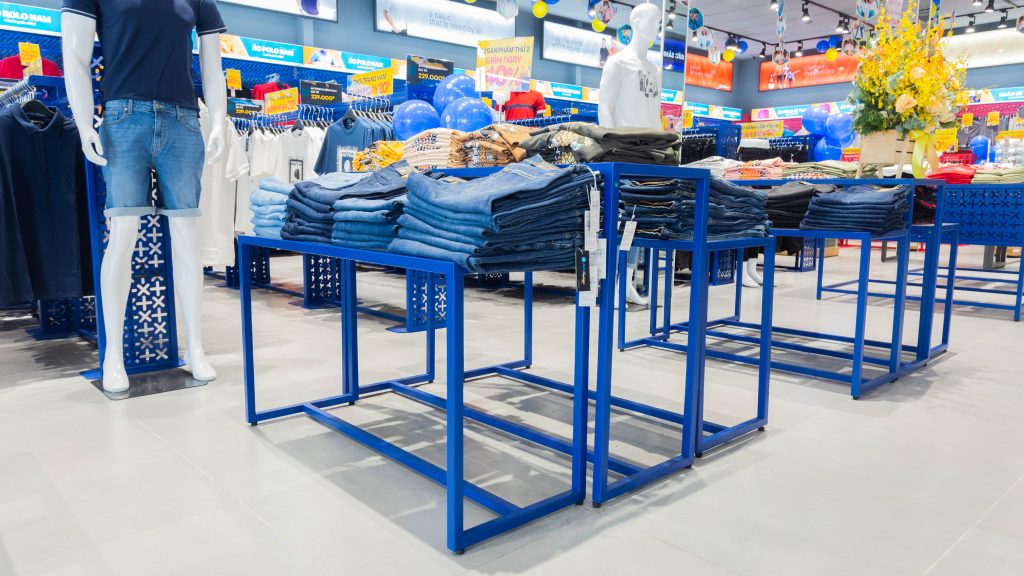 Model display shelves for fashion shop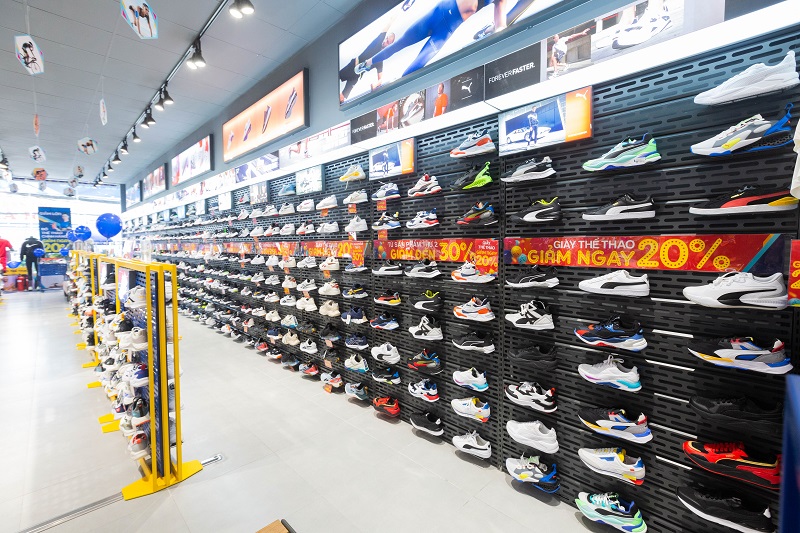 Wall-mounted shelves and middle shelves for displaying fashion shop products
And there are many other models of product display shelves provided by A Dong. In addition to the available models, we offer design, production, and installation according to customer requirements.
Retail chains, MT channels, and GT channels have a demand for product display shelves, product display cabinets, or product display props. Please contact us at the address and hotline below for consultation:
Hotline: 096.999.3037
Email: lethu.posm@adong.com.vn
Head office in Vietnam: 112/9 Pho Quang Street, Ward 9, Phu Nhuan District, Ho Chi Minh City – Vietnam.
A Dong Factory: Plot 130 – TBĐ, Industrial Cluster 8, Slope 47, Bien Hoa, Dong Nai.